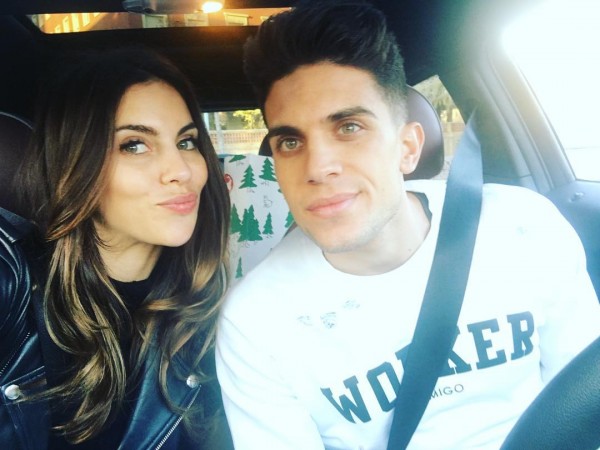 Football will not be cowed by fear. That is the message that went out loud and clear as Borussia Dortmund players turned out for training on Wednesday afternoon, less than 24 hours after their team bus was hit by a bomb explosion.
Marc Bartra was the only player injured in the explosion, suffering a broken bone in his wrist. The Champions League quarter-final tie between Dortmund and Monaco will now take place later today (April 12).
The Spanish defender is recovering at the moment and is out of any danger.
Bartra, 26, underwent a successful operation on his hand on Tuesday night "after breaking the radial bone in his arm and getting bits of debris lodged in his hand as a result of the bomb attack on the BVB Team Bus", the team statement said.
"We're all in shock and our thoughts are with Marc," said Dortmund skipper Marcel Schmelzer. "We hope that he will make a speedy recovery." The Black and Yellow camp is all set "to play the match tomorrow for Marc".
Marc Bartra's wife Melissa Jimenez, a sports journalist covering Moto GP, confirmed the injury to Radio Marca. She has been on his side since the incident happened.
The Dortmund team undoubtedly have been shaken by the entire incident and playing a big match within 24 hours is indeed difficult. However, it needs to be seen if they indeed can bring out their biggest fight against the French side AS Monaco on Wednesday.
"The stadium and the surrounding area remain the focal point for police," mentioned Dortmund's chief of police, Gregor Lange. "We're prepararing a major police presence for tomorrow [April 12 match at 6.45 pm CET] and will do everything humanly possible to ensure the match can take place safely."
Who is Marc Bartra
Position: Central defence
Born: January 1991 in San Jaume, Spain
Senior team clubs so far: FC Barcelona (2010-2016), Borussia Dortmund (2016-active)
Spain national team appearances so far: 12
Trophies in football: 5 La Liga titles, 2 UEFA Champions League titles, 3 Copa del Rey titles, 1 FIFA Club World Cup (all with Barcelona)
Under-21 European Championship 2013 (with Spain U-21 team)
Wife: Moto GP journalist Melissa Jiménez (married February 2014)
Daughter: Gala Bartra (born August 2015)