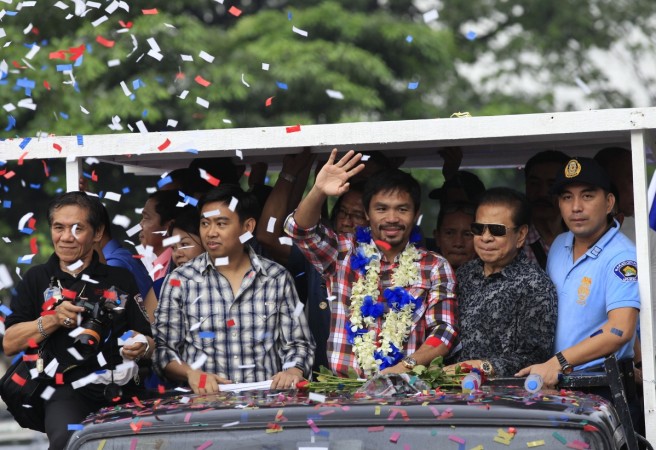 The whole world has been talking about the Floyd Mayweather vs Manny Pacquiao fight and the mega dollars that is expected to be involved in it. In case the match takes place, it is set to break all box office records in boxing history as well.
The hype created for the fight of the century appears legitimate as both the boxers have established themselves as greats of the modern era, but have failed to come face to face inside the same ring.
The negotiation for the fight at MGM in Las Vegas on 2 May is still ongoing between the two and is yet to be made official.
But this is not for the first time that the bout has been arranged as they were expected to fight in 2010 as well. However, plans didn't materialise.
One can rightly assume, if the deal between the two breaks once again, this bout could well be remembered for the 'fight which never happened'. Both the boxers, who have earned so much in their lifetime from the sport, would not like to disappoint their fans.
Every now and then, both the boxers have shown their eagerness to fight one another.
Meanwhile, it is not just boxers and fans around the world, who are eager to see these established boxers inside the ring. Sportsmen from other fields like Luke Rockhold, an American mixed martial artist too wants to witness the fight.
Rockhold feels that both the boxers are more interested in the money part of the deal.
"These guys are making $50-100 million, and will probably make over $100 million each for this fight. Shut up about the f***ing money and let's see the f***ing fight already," bloodyelbow.com quoted Rockhold as saying.
Like all boxers, past and present, media persons, critics and fans, Rockhold also consider this as the fight, which he has always wanted to see forever.
"I'm hoping it happens. It's a fight that I've wanted to see forever, and I'm tired about all the bickering back and forth about money. Mayweather needs to keep his legend intact. I think this is going to be hurting him, sitting over his head if he doesn't take this fight. Pacquiao deserves to have this fight. Its been meaning to happen for a long time."
He has also passed on some encouragement to Pacquiao's promoter, Bob Arum to finalise the deal. "Bob Arum, come on man," he said.