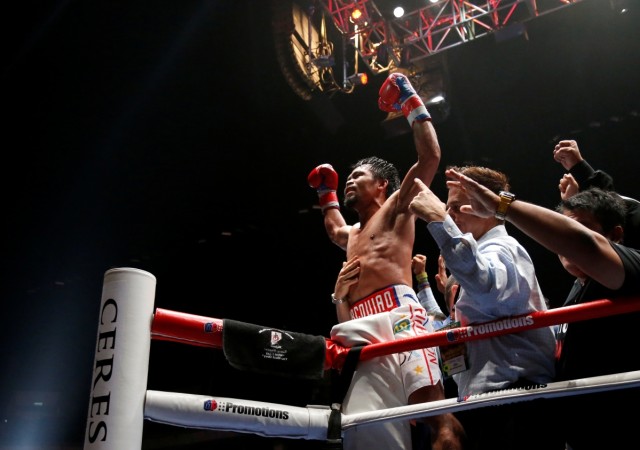 Manny Pacquiao showed yesterday that he is still a champion who is not done with boxing yet.
Pacquiao, the renowned 39-year-old Filipino boxer claimed his WBA world welterweight title against Lucas Matthysse, Argentina boxer. The match took place at Axiata Arena in Kuala Lumpur, Malaysia.
Pacquiao floored Matthysse twice in the third as well as fifth round before knocking him out in the seventh round with a shattering left uppercut and winning his WBA welterweight belt. It is Manny's 60th win of his career. He has seen seven losses and two draws.
Pacquiao outscored Matthysse 344 to 246 and connected on 44 percent of his power shots. He repeatedly bashed Lucas with uppercuts along working with his body shots. Lucas was floored to ground with an uppercut in the third round and finally was dropped by Pacquiao in the final time of round seven. With sitting on his one knee, Matthysse threw out his mouthpiece which later the referee Kenny Bayless was summoned to call wave off to the fight at 2:43 of the round.
For this fight, Pacquaio replaced his longtime Hall of Famer trainer, Freddie Roach with Buboy Fernandez for this fight held in Kuala Lumpur, Malaysia. He is the only boxer to win titles in eight divisions, also claimed WBA regular welterweight title from Matthysse.
Manny Pacquiao said, "Thank God for this victory. This is all dedicated to God and all the Filipino people. Thank you to our country and our president for watching this fight."
The scoreboard of fight is as follows
| | | | | | | | | | | | | |
| --- | --- | --- | --- | --- | --- | --- | --- | --- | --- | --- | --- | --- |
| | R1 | R2 | R3 | R4 | R5 | R5 | R6 | R7 | R8 | R9 | R10 | TOTAL |
| Pacquiao | 10 | 10 | 10 | 10 | 10 | 10 | 10 | TKO | | | | 60 |
| Matthysse | 9 | 9 | 8 | 9 | 8 | 9 | | | | | | 52 |
After losing to Pacquaio, Lucas Matthysse was asked what was most difficult part of fighting to Pacquiao, to which he answered, "To fight Manny Pacquiao. He's a great fighter and a great champion."
Even with the loss, Matthysse remained calm and said, "Sometimes you win and sometimes you lose, Today was my turn to lose and I lost to a great fighter and a great legend in Manny Pacquiao. [I'm going to] take a rest, take a break. I worked really hard and I want to go back home to my family. This is part of boxing that you win some and lose some. Today was my turn to lose but nothing more."
"We did a good job and my team in training. We were not pushing hard like we did when we were very young. We controlled ourselves in the training but its heavy training. Thanks to all of my team for working hard in this fight." said Manny Pacquiao.
As of when asked which opponent he wants to fight next, Pacquaio didn't give an answer to that but said, "That's another story and another discussion."