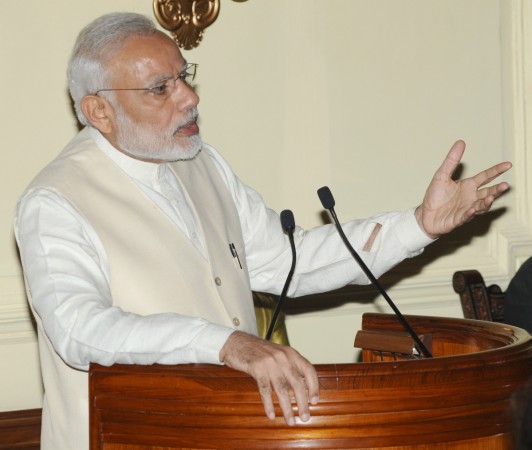 Prime Minister Narendra Modi is expected to address the nation for the 24th time in the Mann Ki Baat radio programme later on Sunday, September 25. He has been delivering this periodical address around once a month since assuming power in 2014, in which he reaches out to the nation on various topics.
In Sunday's address, Modi is expected to stress a lot on the Uri terrorist attack in Jammu and Kashmir, and the terror machinery in Pakistan. He is also expected to detail the steps the government is taking to isolate Pakistan at the world level for the terrorism that is sponsored by it.
Another topic he may touch upon is the Kashmir issue, because the state has been on the boil for several months now. He may have some words of reassurance on the topic for not only the people in the Valley but the nation in general.
At some point, Modi may also touch upon the Balochistan issue, what with Baloch Republican Party president Brahumdagh Bugti applying for asylum in India. There are also reports that the Central government is in the process of amending some rules that should clear the road for India to grant Bugti asylum.
With Dussehra, Durga Puja and Muharram coming up, Modi is expected to greet the nation ahead of these festivals. He may also reiterate his request to people to use eco-friendly idols for Durga Puja, as he had done before Ganeshotsav last time. Modi will also speak on Mahatma Gandhi, whose birthday is coming up on October 2.
The entire address can be heard on radio.The official YouTube channel of Narendra Modi has also made arrangements to broadcast it. It can be live-streamed here:
The address will also be broadcast on the All India Radio official website. The prime minister's official webcasting portal will also relay the programme. There is a third website that caters specifically to Modi's addresses on the radio, and the 24th Mann Ki Baat will be broadcast there as well.