Abhishek Bachchan and Taapsee Pannu's smoking scenes from Anurag Kashyap's Manmarziyan (Manmarziyaan) have been voluntarily removed from its theatrical cut by the makers after a Sikh organisation called The Sikh Sangat of Ambala objected to its depiction.
The scene in which Abhishek (groom) and Taapsee (bride) enter into the Gurudwara where the bride keeps thinking of her past has also been deleted from the final cut after consulting with Central Board of Film Certification (CBFC).
Take a look.
| | | | | |
| --- | --- | --- | --- | --- |
| Sr No. | Reel No. | Description | Deletion (MM:SS) | Addition (MM:SS) |
| 1 | 1 | Location 01.11.49 Duration 29 seconds, Deleted Abhishek Bachchan Smoking Cigarette. | 0.29 | 00.00 |
| 2 | 1 | Location 01.17.12 Duration 01min 01 secs Deleted Bride a. Groom Entering Gurudwara. Bride thinking of her past. | 1.01 | 00.00 |
| 3 | 1 | Location 01.24.32 Duration 11 secs Deleted Taapsee Panu smoking cigarette. | 0.11 | 00.00 |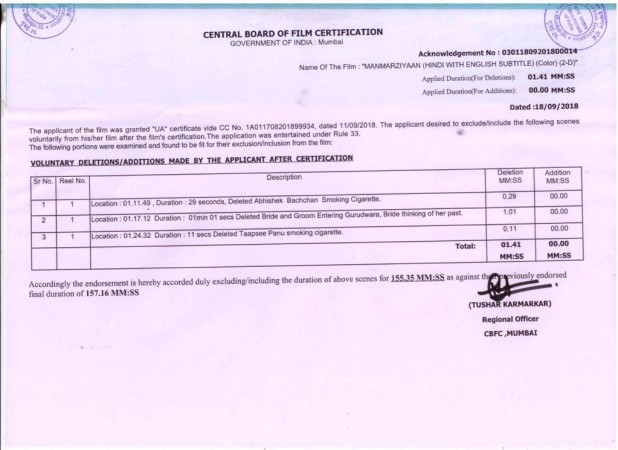 Director Anurag Kashyap, who had earlier issued an unapologetic statement over the controversy, is apparently miffed at Manmarziyan film distributor Eros International who let down their guard after receiving the threat from the Sikh community.
The Sikh Sangat of Ambala had held a meeting at Gurdwara Manji Sahib on Monday where they decided to seek a ban on the screening of the film after discussing various aspects of the film. They have also issued a warning that they will stage protests outside multiple cinema houses if Manmarziyan is not taken off from theatres.
Kashyap took to Twitter to express his disappointment and even disclosed the personal phone number of Kishore Lulla, the chairman of Eros International, in his tweet.
"Congratulations. Here by all problems of Punjab are solved and Sikh youth have been saved. Happy to be back in LaLa land again. Next time you are threatened by a film please call Kishore Lulla directly on +91 9******. Eros knows how to solve matters in minutes," he wrote and signed off.
In his statement, Kashyap had taken a firm stand against the controversy and said that Manmarziyaan is a story of three individuals and not their religion. He also apologised to those who were genuinely hurt by the depiction of the scenes and not to those who were trying to seek attention.
He also mentioned that all the Gurudwara and the smoking scenes were shot after getting approved and under the guidance of the Sikh people. But it looks like Kashyap's efforts have all gone in vain after the film's distributor knelt down before protesters to surrender.
Taapsee Pannu too gave slow claps for the Sikh protesters who managed to emerge victorious in their battle to protect their religion.
"I am sure this edit will assure that no Sikh will ever Smoke and no woman will ever think about ANYONE else while getting married in a Gurudwara. THIS surely will make Waheguru proud and assures that MY religion is the purest,most righteous and peaceful ! #Proud," Taapsee tweeted.