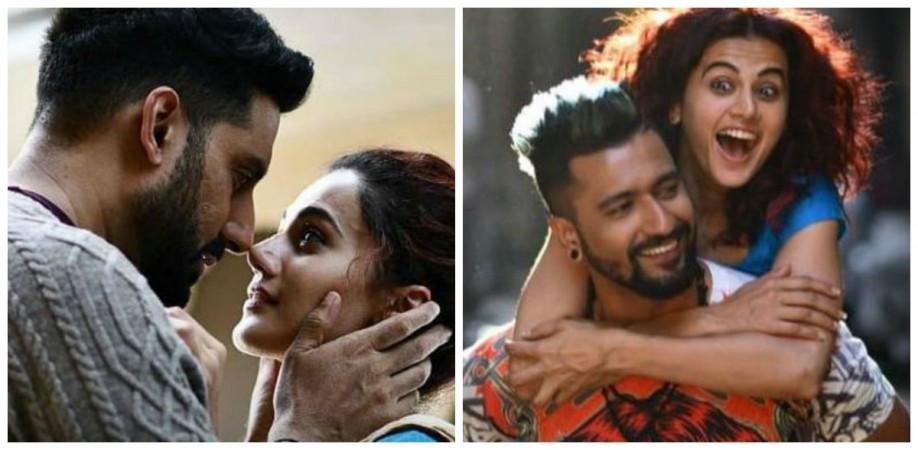 Anurag Kashyap's latest movie Manmarziyan (Manmarziyaan) has not just impressed the celebrities but has also garnered accolades from the critics. Some critics have already watched the movie in a special screening, and have come up with rave reviews for the film.
Manmarziyan starring Abhishek Bachchan, Taapsee Pannu and Vicky Kaushal is a story of a quirky love triangle. The movie has got extremely positive reviews from the critics. All the three lead actors' performances are being immensely praised. Also, Anurag's direction is getting a special mention.
According to the reviews, Manmarziyan is filled with humour, romance, emotions and a lovely story-line. The film has been getting all round applause.
Check what critics have to say about Manmarziyan and the ratings it got:
The Times of India: This new-age love story with Facebook friend requests and Tinder conversations, also has the charm and depth of an old-school love saga. The motif of twins, peppered right through the film is funny and random but if you dig deep, you will probably find out why. At times, the story might be a little too deep for millennials, but Manmarziyaan is one of the best romantic movies to come out of Bollywood in a long time. (4/5)
NDTV: There is much to love in Marmarziyaan. Taapsee Pannu makes it consistently watchable and Anurag Kashyap's directorial flourishes lend the film a veneer of intelligence. Manmarziyaan, laced with humour and warmth, is a love story with flashes - only flashes, not a sustained flow - of inspiration. (3/5)
Miss Malini.com: The characters are what makes the entire movie and it is nothing like Anurag Kashyap has ever done before. After films like Gangs Of Wasseypur, nobody would expect Anurag to make a film that is as sweet as this one. Even when he leaves behind the darkness that his films are usually known for, he does not compromise on the intensity. It is clear from the movie that he has steered this ship of what could have been any other love triangle, in the right direction. Kudos to that! All in all, Manmarziyaan is a sweet movie that is definitely worth your time. (3.5/5)
Bollywood Hungama: On the whole, Manmarziyaan comes across as a contemporary and an unorthodox tale laced with some brilliant performances and powerful writing. The bold theme of the film might restrict its appeal but its target audience is sure to give the film a thumbs up. (3/5)
DNA: For the eternal die-hard romantics, Manmarziyaan is that tale which encourages you to dream on, no matter what. Go for it with that special someone. (3.5/5)
Deccan Chronicle: At the end, Anurag Kashyap's spin on modern love has a lot of heart and depth. The film especially deserves a watch for trying to do something different to what we commonly see in romantic cinema. It's a story well acted and well told. (3.5/5)
Filmfare: Shot well by Sylvester Fonseca and edited well by Aarti Bajaj, the film scores on technical fronts as well. Summing up, Anurag has made a Silsila for the Tinder generation. Yash Chopra would have approved. (3.5/5)
Koimoi: All said and done, Manmarziyaan is not your hunky dory love story. It has love in a more realistic form backed by some outstanding performances. The music lifts up the purpose of the film proving the point Kashyap wants to say i.e. Do what pleases your heart! (3.5/5)
As usual Vicky and Taapsee are brilliant.. But you have to see #Manmarziyaan to witness the birth of a sensitive actor.. What a brilliant mature performance by Abhishek Bachchan !!
Finally Anurag Kashyap proves that he has a heart too !!
3 & half Stars.

— Amod Mehra (@MehraAmod) September 11, 2018