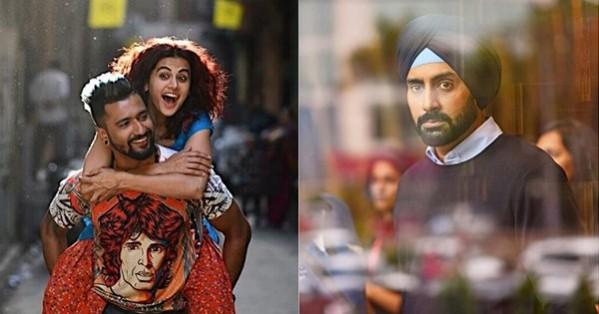 The movie Manmarziyaan starring Abhishek Bachchan, Taapsee Pannu and Vicky Kaushal has been getting rave reviews from the celebs. A special screening of the film was held recently, following which many celebrities praised the movie on social media.
Directed by Anurag Kashyap, Manmarziyaan is story of a love-triangle comprising two men and one girl. The trailer of the film had shown a glimpse of the quirky romantic film, which had created a lot of hype around the movie.
Now, many celebrities are going gaga over Manmarziyaan . From performance to direction, everything about the film is being appreciated. Abhishek has appeared on the big screen after a long time, and looks like the actor has hit the right chord.
One of the best appreciation came from Amitabh Bachchan, who sent a hand-written letter along with a bouquet to congratulate the team.
Vicky shared the image on social media, saying "this means the world to me". Taapsee too shared another picture holding the letter, and saying "A milestone achieved".
Many are praising Abhishek's portrayal of the character. Taapsee and Vicky are also being congratulated for their good work. Anurag Kashyap has yet again proved his directorial excellence.
Check what other celebs have to say about Manmarziyaan :
....@vickykaushal09 is all gusto and glory portraying a manic lover with genius abandon!!! He has some moments of brilliance in the film!! @tapseepannu holds the strings of her layered character like an absolute veteran! Bravo!!!!??? #Manmarziyaan

— Karan Johar (@karanjohar) September 12, 2018
After long experienced something different at the movies called 'Manmarziyaan' ! This modern age 'Pyaar n Fyaar', performances, writing, music is so incredibly riveting ! Vicky, officially running out of words - only u could create 'Neela kukkad '-OUTSTANDING ??@vickykaushal09

— Yami Gautam (@yamigautam) September 13, 2018
परदे पे प्यार का विस्फोट है "मनमर्ज़ियाँ"।
प्यार और FYAAR में अपने अस्तित्व की आतिशबाज़ी करते किरदार कब इतने बड़े हो जाते हैं पता ही नहीं चलता।@anuragkashyap की एक और निडर फ़िल्म, जो बंधनों को तोड़ती है।आश्चर्यचकित करने वाली अदाकारी। @juniorbachchan का कमाल का अभिनय..
१/२..

— Vineet (@ItsVineetSingh) September 7, 2018
#Manmarziyaan will take you on a roller coaster ride of emotions questioning morality and love itself but, making you believe in love at the same time. A love story as real as it gets. @anuragkashyap72 thank you for this amazing experience @aanandlrai congratulations ????

— Sunny Kaushal (@sunnykaushal89) September 7, 2018