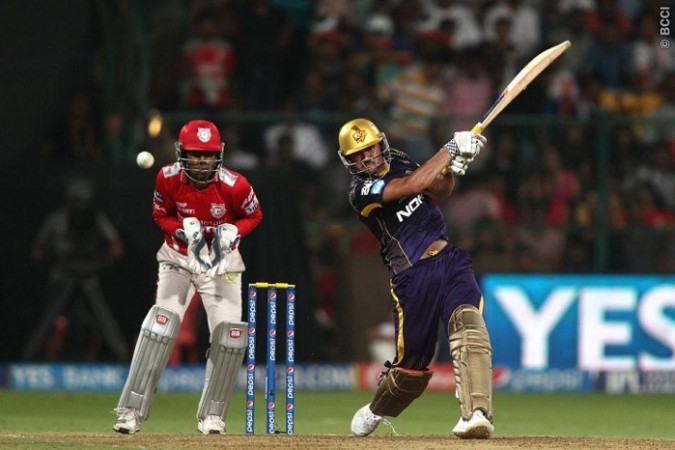 The Kolkata Knight Riders pulled off a brilliant chase to win their second IPL title in a stunning final against the Kings XI Punjab on Sunday.
The capacity crowd at the M Chinnaswamy Stadium were treated to some brilliant batting as the two sides combined for 399 runs on the night.
Wriddhiman Saha was the main man for the Kings XI Punjab in the first innings, scoring a wonderfully brutal unbeaten hundred to take his team to 199.
Manish Pandey, though, trumped Saha's innings, with an outstanding 94 to guide KKR to a three-wicket victory with three balls to spare.
"I got the opportunity to get runs in the final, and it's a great feeling to get this win," man of the match Manish Pandey said. "This has been the cherry on the cake for my season.
"I give myself a lot of chances, and I love to play the big games. As soon as we got 10 in the first over, I just thought if we went the same way every over we could get to 200 in 20, and I always believed we could do it."
KKR captain Gautam Gambhir allowed himself a small smile after leading his team to their second title in three seasons. "Where we were after first seven games, not many people thought we would be here," Gambhir said. "They absorbed a lot of pressure, a lot of credit needs to go to the team.
"This is a ground where it is very difficult to defend. We wanted to get it down to 5 overs, 50 or 60 to get. Manish played a fantastic innings, Yusuf [Pathan] chipped in, and [Piyush] Chawla hit that important six."
George Bailey was a disappointed yet proud skipper as his Kings XI side fell agonisingly short. "If ever there was a final, this was it wasn't it," he said. "I thought we did pretty well, but hats off the Manish Pandey, who hit a boundary after pretty much every wicket, which was pretty ballsy of him.
"We've got a special bunch of guys, we've had a wonderful tournament, and our guys can hold their heads high."
It will be a tough loss for KXIP to take, but with the team that they have there is absolutely nothing stopping them from making a run all the way to the final yet again next season.
Watch the IPL 2014 Final KXIP vs KKR highlights HERE, HERE or HERE.