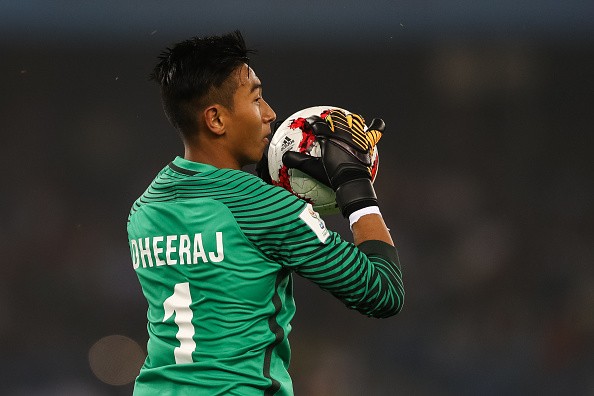 Several reports have surfaced that the eight Manipuri players in the India Under 17 football team have not been paid their dues. This makes an embarrassing read with the FIFA U-17 World Cup 2017 currently taking place.
Taken completely aback, Manipur Chief Minister Nongthombam Biren Singh, has ordered the state government to immediately pay off Rs 5 lakh each to all the concerned players.
For those unaware, the two star players of the India U-17 football team -- goalkeeper Dheeraj Singh Moirangthem and goalscorer Jeakson Singh -- represents the northeastern Indian state.
Apart from the dynamic duo, captain Amarjit Singh, full-back Boris Singh, Ninthoi Meetei, Nongdamba, Suresh Singh and MD Shahjahan represent Manipur in the Indian under 17 football team squad for the World Cup.
Biren Singh is miffed after he came to know that the poor parents of the Manipuri players, who are in the national capital at the moment, are unable to watch their children play in the matches as they faced difficulties to manage their expenses.
"Rs 10,000 each was given to the parents and air tickets," Sports Minister Letpao Haokip has mentioned. Football fans are reportedly also donating generously to enable the parents of the players a chance to watch India's final game against Ghana at the JLN Stadium in New Delhi on October 12.
More plans in the pipeline for Manipur football development
Biren Singh, meanwhile, announced a plan to develop three astroturf grounds in Manipur. He also rued the fact that the northeastern state was not given a chance to host matches of the FIFA U-17 World Cup 2017.
"Manipur is crazy about football. So the state government is planning to develop three astroturf grounds in Imphal East, Imphal West and Thoubal districts so that players can play football all year round," Singh has been quoted as saying by Telegraph India.
"I have already instructed the sports officials to prepare and submit a detailed project report on the proposed football grounds as soon as possible. Such astroturf grounds will help the state produce more national and international-level players like those in the Indian team," he said.
"Manipur should have been given an opportunity to host at least a match of U-17 World Cup 2017," Singh told the Times of India.
(with inputs from IANS)