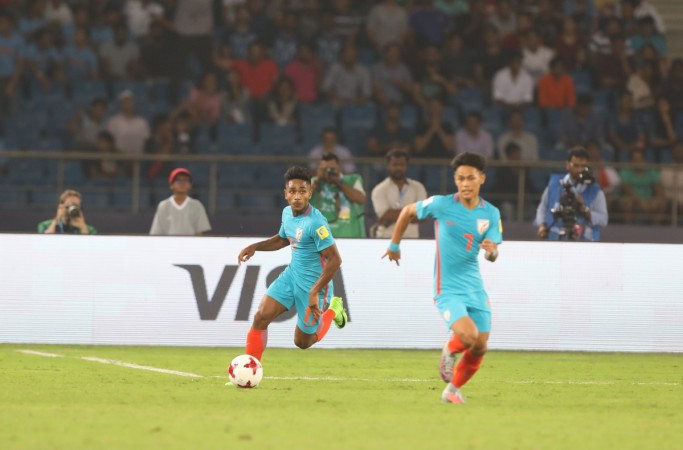 FULL TIME: One of those days when lady luck was absolutely not with the India Under 17 football team. Dheeraj Moirangthem, the warrior, still made world class-saves until the last moment. Jeakson Singh made history by scoring the first FIFA World Cup goal for India.
Colombia and Penaloza, however, had other plans.
FINAL SCORE: INDIA 1-2 COLOMBIA
5 minutes of additional time.
83' DRAMA! COLOMBIA TAKE THE LEAD AGAIN THROUGH PENALOZA.
DAMN!
82' GOOOOOAAALLLLL!!!!! INDIA CREATE HISTORY WITH THEIR FIRST GOAL EVER IN A FIFA WORLD CUP THROUGH JEAKSON SINGH.
SCORE: 1-1
76' Chance! Nongdamba cannot find the target from such a close range. On the other end, Campaz has a stunning shot on goal. Hits the side netting.
74' Nongdamba comes on for Boris Singh.
68' Another Indian build-up comes to no use. What can the hosts do with just 20 odd minutes to go?
65' Change for India. Aniket Jadhav comes on for Abhijit Sarkar.
60' An hour of play comes to an end. India are trailing at the JLN Stadium Delhi.
Score: India 0-1 Colombia
57' India do find the back of the net through Rahim, but that's an offside! Hard luck.
49' GOAL! Colombia take the lead. Penaloza strikes with his left foot to blast the net.
India 0-1 Colombia
9:05 pm IST: Second half is under way!
HALF TIME! India have been the better team in the first half. Question remains is if lady luck is with the hosts. Dheeraj at the goal has been magnificient, Abhijit Sarkar has forced a save from the Colombian goalie, Ninthoi has been stunning in midfield, and Rahul has been UNLUCKY.
Score: India 0-0 Colombia
UNFORTUNATE!!! INDIA HIT THE WOODWORK FOR THE SECOND TIME IN TWO MATCHES. RAHUL KANNOLY, THIS TIME AROUND.
42' SAVED! Dheeraj makes another stunning save, denies Menezes! This is incredible!!! The goalie has unfortunately landed awkwardly and is receiving treatment.
38' Dheeraj is showcasing again why he is one of the most promising players in the Indian squad. Beautiful parry of the ball to prevent Colombia from scoring the first goal of the match.
34' Defender Anwar Ali is one of the most influential players so far in the field. He is struggling however. The lad has given his heart out so far.
30' Campaz lands awkwardly on his back and is receiving treatment after a clash with the Indian custodian Dheeraj Moirangthem. Adventurous ball clearance from the goalie.
24' Colombia have the lion's share of ball possession, but it is India who are having the brighter performance so far.
Score: 0-0
18' SAVE! Menezes' powerful free kick has been punched AWAY by Dheeraj. Really positive last two minutes for the hosts.
15' Hopeful show from Ninthoi and Boris on the right.
SHOT!!! Abhijit Sarkar has a shot on goal, but the Colombia goalkeeper parries it away!!!
10' Colombia are enjoying possession and building a string of passes. Not been a great start to the match. Pretty much slow so far.
Score: 0-0
5' None of the sides so far has produced any sort of a damage. Both teams settling on early on. Boris Singh meanwhile has a tough job tonight marking the dangerous Campaz.
2' A rather strange start for the hosts. India are looking at long passes. They saw the ball possession twice so far and both the long passes remained wayward.
8 pm IST: We have the KICK-OFF!
Reminder, this is how you can watch the match LIVE.
7:50 pm IST: Ten minutes remaining for the match. The players are getting out on the pitch....Lots of school children, dressed in blue, have made it to the JLN Stadium in New Delhi. Hope they have access to plenty of water tonight.
7:40 pm IST: Coach Luis Norton de Matos has mentioned that the India Under 17 football team has buried the nervousness and shyness of their first match in the tournament. It is time to bring their best foot forward tonight!
7:30 pm IST: Let's look into the visuals coming in from New Delhi as we wait for the match to start in 30 minutes or so...
7:15 pm IST: Time for the lineups. Surprise! Komal Thatal is on the bench. Rahim Ali gets his first start!
INDIA: Dheeraj; Boris, Sanjeev, Nameet, Anwar; Jeakson, Amarjit (C); Rahul, Ninthoi, Abhijit; Rahim.
COLOMBIA: Mier; Cifuentes, Tegue, Gutierrez, Campaz; Lopez, Penaloza, Meneses, Carvajal; Angel, Cortes.
7 pm IST: One done, two to go. Can India find their mojo this evening? Welcome, all of you, to the live text commentary of the FIFA Under 17 World Cup 2017. Hosts India take on South American football giants Colombia at the JLN Stadium in New Delhi, in just an hour's time. The kick-off is set for 8 pm IST.
This is Sayantan back again, providing you all the updates from the match and if everything goes well, will be proud to bring you the update of India creating history by winning their first match of the FIFA World Cup, EVER. All we need to do is hope!
Stay with me, and keep this tab open. All the information coming right your way!
How to watch the match LIVE on TV, stream online and listen on radio.