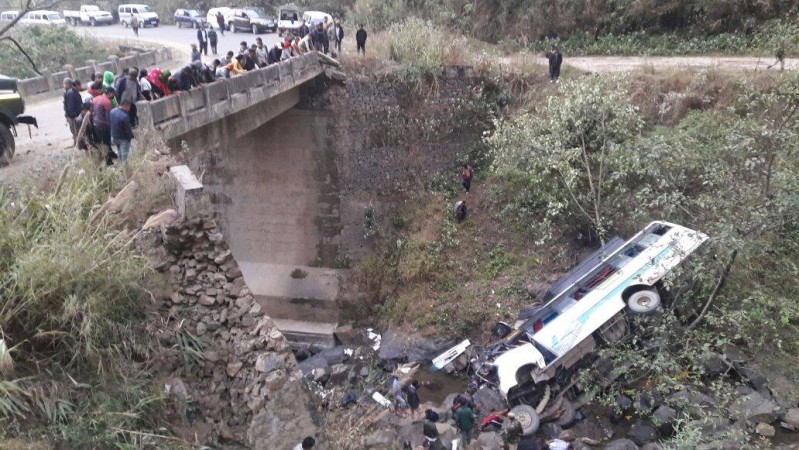 At least 21 people were killed and over a dozen injured in three separate road accidents in Manipur on Monday, March 27, sending the people of the state into mourning.
State Governor Najma Heptullah and Chief Minister N Biren Singh condoled the deaths and the state government announced an ex-gratia of Rs 2 lakh each to the families of deceased and Rs 50,000 each to the injured.
Also read: Manipur economic blockade lifted
Bus falls into deep gorge
An Imphal-bound bus (MN 04 A9503) from Dimapur in Nagaland with 25 passengers on board fell into a 500-metre deep gorge at 3:30 am near Chakhumai bridge between Maram Bazaar and Makhan along National Highway 2 (earlier NH 39) in the state's Senapati district. The accident occurred after the driver lost control of the vehicle and eight people were killed on the spot. Over a dozen were critically injured and were taken to the hospital where four more persons succumbed to their injuries, taking the toll to 12. People from nearby villages like Chakumai, Khridziiphi and Makhan along with 34 Assam Rifles personnel rushed to the help of the passengers of the ill-fated bus.
Truck driver killed after vehicle slides into gorge
In another accident, a truck fell into a deep gorge near Lairouching, Maram in the same Senapati district in the morning, killing the driver on the spot. The location of the second accident was just a few kilometres away from that of the first.
Mini bus accident at Khongsang
At least eight people, including two women, were killed on the spot in the third accident of the day that took place at 12:45 pm near Khongsang, Tamenglong district of Manipur. Seven injured were taken to Imphal for treatment. This happened when a vehicle carrying 15 passengers fell into a 300-feet-deep valley just one km ahead from Irang towards Khongsang along National Highway 37.
Manipur is known for its dangerous roads, including the national highways. Drivers often have to negotiate curves through the mountains but so many accidents in a single day are something unheard of in the small northeastern state.