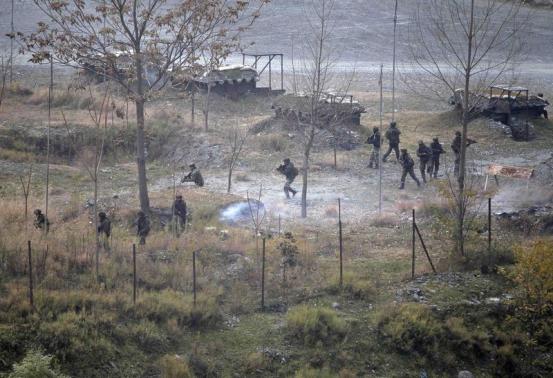 At least 18 army men were killed in an ambush by an unidentified militant group in Manipur on Thursday morning, in one of the worst attacks on the Indian army in years.
The incident took place in Chandel district around 8.30 am when the convoy of 6 Dogra Regiment was moving from Motul to state capital Imphal.
The militants reportedly used RPGs (rocket propelled grenades) and IEDs (improvised explosive devices) in the ambush attack.
Naga rebel outfit NSCN-K claimed responsibility for the attack. .
According to reports, there was a shutdown in Chandel on Wednesday over the killing of a woman, allegedly by the Assam Rifles.
According to reports, 12 others were injured in the attack, that took place in Charlong village, which lies about 200km from Imphal.
Among those killed were one Junior Commissioned Officer, one Signal constable, one Army Service Core Driver and seven personnel from other ranks.
Defence Minister Manohar Parrikar condemned the attack, and said that those responsible will be 'brought to book'.
Defence Minister Manohar Parrikar assures that those who committed the cowardly act will be brought to book-MoD Spokesperson

— ANI (@ANI_news) June 4, 2015
Defence Minister Manohar Parrikar : Army will continue to work towards bringing peace and normalcy to the state of Manipur- MoD Spokesperson

— ANI (@ANI_news) June 4, 2015