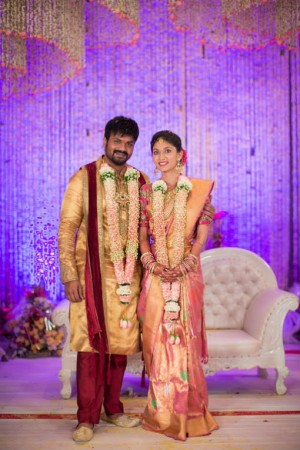 The wedding date of Telugu actor Manchu Manoj, who got engaged to his girlfriend Pranathi Reddy on 4 March, has been revealed. The couple will tie the knot on Manoj's birthday.
Manchu Manoj's engagement was held at Park Hyatt in Banjara Hills, Hyderabad, on Wednesday, 4 March. The Pandit, who performed the rituals on the occasion, read out the testimony in which the date of the marriage ceremony was mentioned. The document stated that the wedding ceremony would take place on 20 May, the day the actor will turn 32.
Sources close to Manchu's family have also confirmed that 20 May has been finalised as the date of Manoj's marriage ceremony. Manchu family is planning a grand function as it will be the last wedding in the family. It is going to be a starry affair as many superstars from the Indian film industry are likely to grace the occasion.
Watch complete video of Manoj's Engagement
"Manoj is going to marry Pranathi on May 20. It will be a grand affair with who's who of film industry and political fraternity. Since it's the last marriage in Manchu family, it will be biggest affair. From Bollywood to Kollywood to Tollywood, stars are expected to grace," a source said, Gulte reported.
Manchu Manoj's engagement was a grand event as well, and many celebrities attended the function and blessed the couple. Manchu's family was very excited. His family members thanked the guests as well as the fans who wished the actor on social media. They took to their Twitter pages and thanked everyone for their blessings.
Manchu Manoj tweeted, "Thanks for all ur love and blessings :) ❤️ I am the happiest today :) love u all:)"
Vishnu Manchu posted on his Twitter page, "Thank q for your kind wishes for my little brother. Everything went well by the grace of the almighty God."
Mohan Babu tweeted, "Thanking each and everyone who have blessed my son @HeroManoj1 on his engagement. Thank q for your kind wishes."
Lakshmi Manchu tweeted, "One of the most overwhelming and emotional days yesterday was. Letting go is such a powerful feeling. May Manu and Prani b blessed. ❤️☺️ It was magical to see so many well wishers,friends and family come to bless the couple. Now I can't wait for the wedding. Grateful❤️"