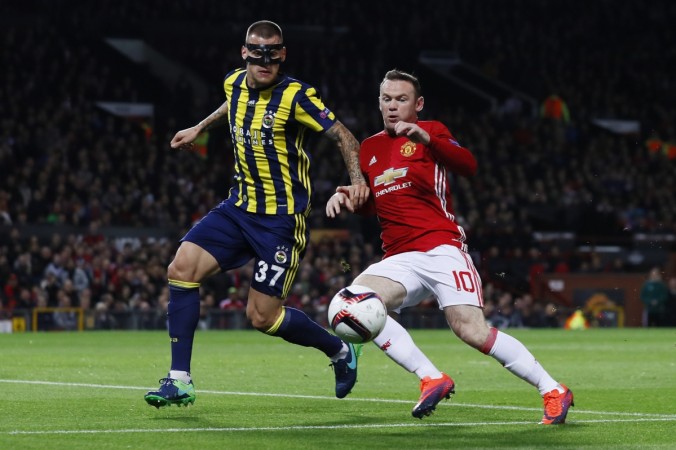 Eyebrows were raised and questions were asked when Manchester United skipper Wayne Rooney took neither of the penalties in his team's 4-1 win over Fenerbahce in the Europa League 2016-17 match at Old Trafford on Thursday. Paul Pogba hogged the limelight with his brace -- one of which came from the spot.
The Frenchman, who became the most expensive player bought in the Premier League history earlier this summer, himself mentioned that he had requested Rooney to allow him a chance to take the penalty and the Englishman happily allowed Pogba to do the honours at the 31st minute of play.
With that being said, the second penalty awarded to the Red Devils in the 34th minute was at least expected to be taken by the 30-year-old Rooney, but no, it was Anthony Martial. The French forward did come out successful but question marks were raised over Rooney's unavailability for penalties.
Was he nervous? Did Jose Mourinho strictly ask him not to take penalties? Is the veteran forward's time at Manchester United over?
"The first two goals were two clear penalties," mentioned Mourinho post-the-match. "Paul was our selected first taker and we made that decision. He probably didn't want to repeat himself a couple of minutes later and Martial is also a good penalty taker," the Portuguese football coach added, not mentioning why Rooney wasn't allowed to take even one penalty.
Liverpool legend Michael Owen, who has played alongside Rooney on several occasions with the England football team as well as at Manchester United in the past, has meanwhile slammed the United forward for possibly asking his younger counterparts to take the penalties, rather than taking it himself, during the match.
"Wayne Rooney's struggling for confidence!" mentioned Owen to BT Sport. "When he was younger he was nasty. He wanted to score. He was desperate. He gets a penalty, he should be all over it. I can't believe he's handed it over."
It was in 2004 that the same Rooney had scored a hat-trick in his debut for Manchester United against the same Turkish opponents, Fenerbahce, in an UEFA Champions League game.