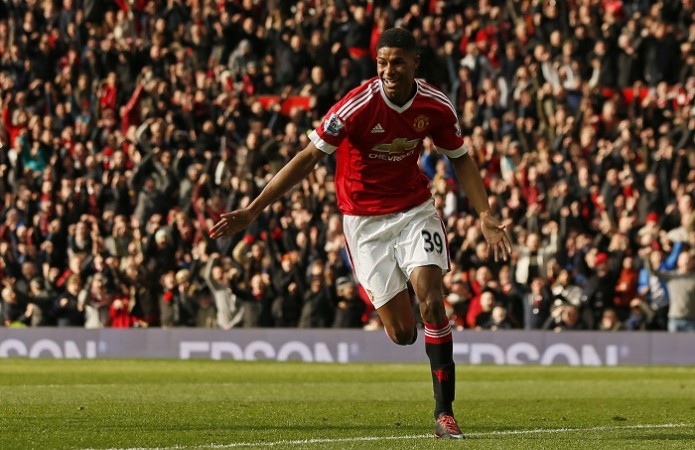 Manchester United are known for producing quality players from their Academy, so, after receiving some criticism for the lack of top-class players coming through from the system in the recent past, it would have felt great for everyone involved to see a local boy, born and bred in Manchester, score two goals and grab an assist against a team challenging for the English Premier League title.
At the end of the day, the 18-year-old Rashford was the difference in the match between Manchester United and Arsenal, scoring the first two goals of the game, before setting Ander Herrera up for the clinching third in the 3-2 victory.
"It's just crazy," Rashford told Sky Sports after the match. "This is my first game in the Premier League so obviously it's been amazing, and to score two has been a bonus. So hopefully we can carry it on and go again the next game."
Louis Van Gaal will certainly hope that as well, with the manager forced to play the 18-year-old up front owing to injuries to Wayne Rooney and Anthony Martial. Even Marouane Fellaini, who might have been used as an emergency striker because of his heading abilities and physical presence was ruled out through injury.
"It was a shock playing midweek as well, because Martial was meant to be starting, and then I was coming in," Rashford, who scored two goals on debut against FC Midtjylland in the Europa League, added.
"But that maybe benefited me because I wasn't thinking about the game too much, so it's been good."
While scoring against the Danish side in a crucial must-win second leg was impressive, Van Gaal believes the youngster's performance against Arsenal was even better.
"I could imagine the first game he did that because he is a striker coming in to score goals and the first match is always good," Van Gaal was quoted as saying by The Guardian. "The second match he has to do what the manager is willing him to do and he did it fantastically. His performance was better than the first match.
"It is the highest level and you have seen also Arsenal against Barcelona and I think the first half Arsenal were better than Barcelona and they created more chances against Barcelona than against us."