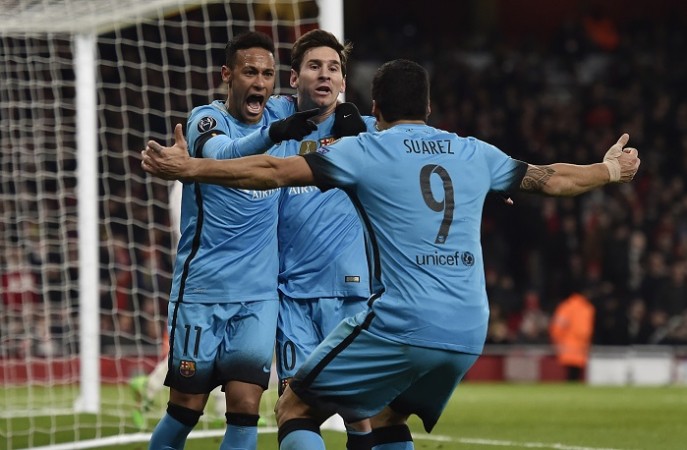 Possession, possession and more possession with very little chances, and then Barcelona, ironically, hit Arsenal on the counter and the first leg of this last 16 Champions League was decided. A few minutes later and Lionel Messi scored his second goal of the game, from the penalty spot, and just like that, this Champions League tie was pretty near done and dusted.
While the "MSN" trio did not run amok like they have done so often this season, two moments of Messi magic and Arsenal saw their Champions League hopes fade in the last 16 stage again.
With Arsenal holding fort quite well, and indeed carving out a few good chances themselves, Barcelona decided to use the tactic that the home side had been using at the Emirates all game against them.
Gerard Pique beat Olivier Giroud to a header off a cross, the ball fell to Andres Iniesta, who found Neymar. With the Arsenal defence pushed up for once, Neymar found a way in behind, via a pass from Suarez, of course, and with very little numbers at the back, the Brazilian found his Argentine teammate Lionel Messi, who made no mistake with the finish, smashing home a left-footed strike on 72 minutes.
Twelve minutes later and Messi put this tie to bed, scoring from the penalty spot, after Mathieu Flamini, only on seconds ago, brought the Argentine down. It wasn't the Frenchman's mistake, though, as the midfielder was put in a spot of bother by an underhit headed pass from Per Mertesacker, with Messi nipping in ahead of Flamini to win the spotkick. Goes without saying that Messi fired home the penalty, sending Petr Cech the wrong way.
It was what Barcelona deserved most would say for all their possession – 65% -- but Arsenal, on another day (how often have we said that about Arsenal) could have easily walked away from this first leg with a win.
The best chance of the first half fell to Arsenal, with Alex Oxlade-Chamberlain failing to connect properly with the goal gaping, while it took until first half stoppage time for Barcelona to carve out their first chance, Luis Suarez heading just wide off a cross from Dani Alves.
The second half was more Barcelona-strong, with the Arsenal defence looking like creaking with every passing minute. However, Arsene Wenger will look back at those half chances missed, those final balls gone astray and that little bit of miscommunication in the final third, which cost them dear.
Barcelona took advantage, and with Messi finding his range, it was game over for Arsenal.