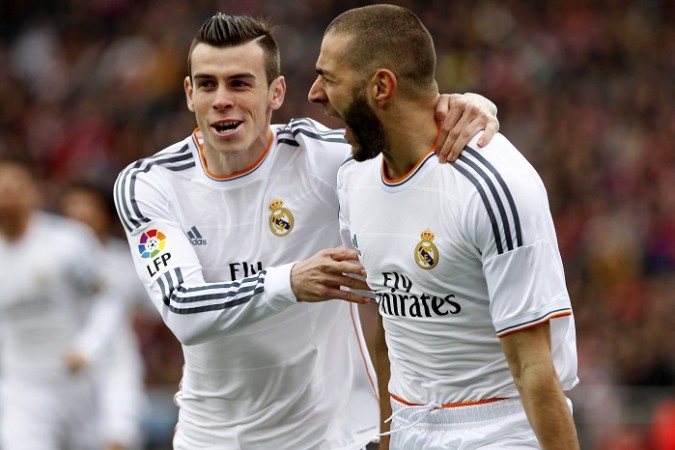 Manchester United could wrap up the double transfer of the summer, with Real Madrid apparently ready to sell both Gareth Bale and Karim Benzema, if they receive a good enough offer, in the summer.
Louis Van Gaal is keen to bolster his side in the summer, and bring in a few more superstars, with Manchester United heavily linked with a move for Bale. The English Premier League side want to land one of Bale or Cristiano Ronaldo in the summer transfer window, and Bale is seen as the more likely option.
The Welshman is not having the greatest of seasons, with injuries in particular curtailing his progress at Real Madrid. And reports from Spain and England have suggested Real Madrid will be open to selling Bale, despite the forward scoring the winning goals in both the Copa Del Rey and Champions League finals last season.
While those reports were rubbished by Carlo Ancelotti, the Real Madrid manager, AS journalist Manuel Esteban has reiterated that Real will sell Bale if the right offer comes along.
"Gareth Bale will not continue at Real Madrid," Esteban told La Goleada, according to the Daily Star.
Benzema is also set for an exit, according to the man from AS, a Madrid-based newspaper, with Real Madrid open to selling both of their high-profile players to fund moves for Marco Reus from Borussia Dortmund and Manchester City striker Sergio Aguero.
"Benzema is also on thin ice," he added. "If they receive a big bid, they will not be hesitant.
"The dream is to combine Kun Aguero, Marco Reus and Cristiano Ronaldo, who would become the best front line in the world of football."
Manchester United were tipped to make a £90 million bid for Bale a few weeks ago, while also making him one of the highest earners at the club, and if what the journalist suggests is even remotely true, then bringing Bale to Old Trafford does look like a possibility.
Benzema has also been linked with Manchester United in the past, and with Radamel Falcao struggling for fitness, Van Gaal will have no hesitation in making a double bid to bring the two exciting forwards to the Premier League.
Manchester United have shown they are not short on cash, and with recent reports suggesting they are planning a transfer strategy based on Real Madrid, what better way to firm that than by signing two superstars from the European champions.