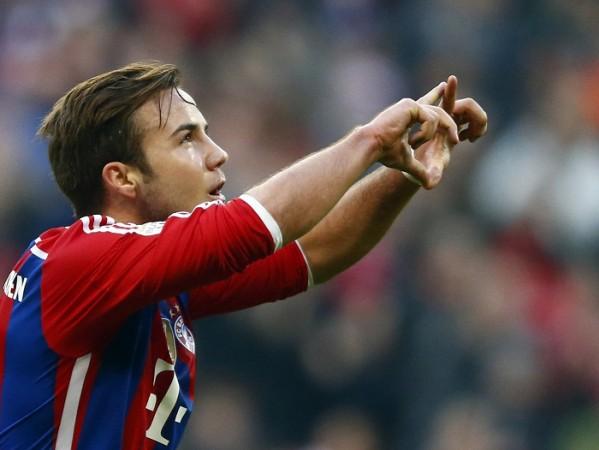 Manchester United continue to be linked with the biggest names in football, with Bayern Munich star Mario Gotze the latest candidate to come under that transfer list.
Gotze was heavily linked with a move to the English Premier League while he was at Borussia Dortmund, with Chelsea, Arsenal and Manchester United all tracking him. However, the Germany international decided to remain in the Bundesliga to join up with Pep Guardiola in a highly controversial move in the summer of 2013.
Gotze, though, did not have the greatest of first seasons under Guardiola, with the manager preferring the likes of Arjen Robben, Toni Kroos and Franck Ribery to the diminutive playmaker, but playing time has gotten better this season, as Bayern look to dominate the Bundesliga and Europe again.
Manchester United have been tipped to go on another spending spree next summer, after their mega transfer in the summer transfer window just gone by, and Gotze, who made a name for himself by scoring the winning goal to help Germany to the World Cup title in Brazil, has now landed up as a potential target, according to the Daily Star.
The report suggests Manchester United will have to stump up a transfer fee of around £50 million to stand a chance of landing Gotze, while the player will only even remotely consider a move if the club finish in the Champions League spots this season.
Manchester United have also been linked with Gotze's former teammates Mats Hummels and Marco Reus and current Bayern Munich teammate Robben, while the likes of Diego Godin, Dani Alves and Kevin Strootman are also reportedly on the radar.
Louis Van Gaal, though, rubbished all the speculative transfer talk, which said Manchester United will spend over £100 million again and are modelling themselves on Real Madrid.
"I think it's disgusting, always writing about numbers," Van Gaal said. "I don't think that [Manchester United executive vice-chairman) Ed Woodward said anything about that, and I don't think I have said anything about that.
"It is disrespectful to my players and I don't like to talk about it. I have to work with the selection I have and I have respect for my selection and I believe in my players."
While another huge spending spree might have been a little over the top, it does look like Manchester United will not be shy on spending the cash again next summer, with much depending on how they finish their season in the English Premier League.