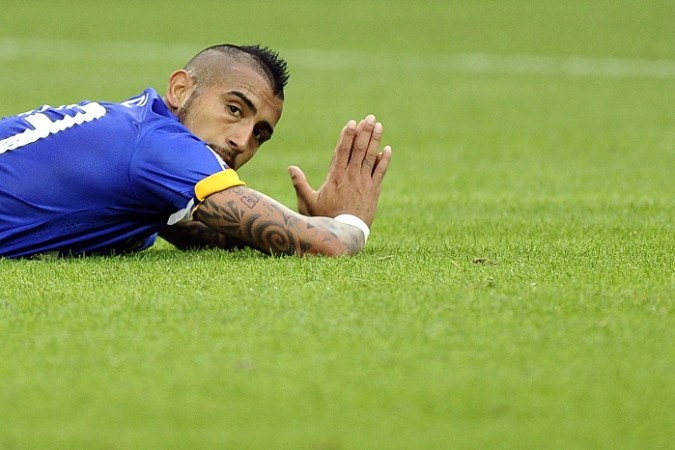 Manchester United have been offered the chance to finally sign one of their long-term targets – Arturo Vidal – as long as they wait until the end of the season.
Juventus are ready to sell Vidal to interested buyers, but will only consider a sale next summer, with Manchester United thought to be keen on making a move in the January transfer window.
Vidal was heavily (and that is an understatement) linked with a move to Manchester United last summer, with a transfer failing to materialise.
However, Louis Van Gaal was thought to be ready to go back for the Chile international midfielder in the January transfer window in hope of completing a high-profile move.
But that looks unlikely now, with Juventus saying Manchester United can have Vidal, but only in the summer transfer window, according to the Daily Express.
With Van Gaal also very much interested in signing Kevin Strootman from Roma, after the duo reportedly "shook" on a deal, it remains to be seen if the Manchester United manager will continue to show an interest in signing Vidal.
The Chilean is not having the greatest of seasons with his club, with off field issues also plaguing the midfielder.
Juventus, who inked a new deal to ensure Paul Pogba would remain at the club, have quite a strong midfield at the moment, and even if Vidal, when on song, is one of the best at his position, the Serie A champions might just decide that cashing in on the Chilean is the way to go.
A transfer fee of around £47 million was mooted last summer, and if Manchester United do not make too many big-money signings in January, that money could be carried over to ink the Vidal deal.
Manchester United recently admitted they are unlikely to make high-profile moves in the January transfer window, owing to the fact that it is difficult to sign quality players midway through the season.
Therefore, the likes of Vidal and even Strootman might just move to Old Trafford only next summer, with Manchester United also reportedly keeping a close eye on Borussia Dortmund maestro Ilkay Gundogan, who admitted he is keen on a move to the English Premier League.