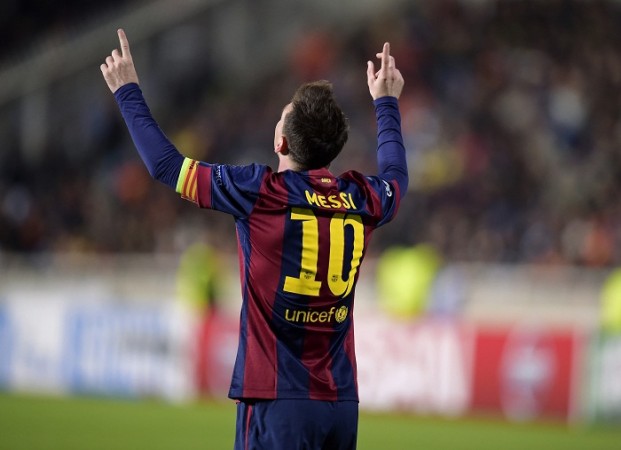 Lionel Messi's possible exit has been grabbing the headlines in recent weeks with his future at Barcelona in doubt.
A number of top clubs across Europe are said to be interested in acquiring the services of the Argentine, who has been one of the best players in the world for some time.
His potential suitors, Chelsea, Manchester United and Manchester City might have been alerted after the Barcelona star dropped one of the biggest hints about a potential move away from Barcelona, stating he is not sure as to where he would be plying his trade next year.
In a press conference prior to the 2014 Fifa Ballon d'Or ceremony, he said anyhing was possible in football. "I'm not sure where I will be next year," he said. "In the football world so many things can change overnight.
"I've always said I will end my career at Barcelona, but as Cristiano [Ronaldo] says only God knows the future."
Despite a number of teams showing an interes, it is Manchester United, who have the biggest chance of signing the player, who has won the Ballon d'Or award three times in the past.
Chelsea and Manchester City are two of the richest clubs in world football, but the stringent Financial Fair Play rules could be a huge obstacle in signing the Barca player.
Outside the English Premier League, it is the French club, Paris Saint Germain who could have the funds for signing the Argentinean, but they too like Chelsea and Manchester City, are handcuffed by FFP regulations.
It is only last year that Barcelona agreed terms with the Argentinean over a new five-year contract, valued at £16.3 million a season.
The Guardian reports that Manchester United are the only club, who could afford to sign the player from the Nou Camp, if Barcelona demand his £195 million buyout fee. Add wages to the transfer fee and the final cost could come up to £275 million.
Messi has been one of the most consistent performers in world football, scoring 51 goals in the 2010/11 season, 77 goals in 2011/12, 75 in 2012/13, 44 in 2013/14 while already scoring 32 goals this season.
These stats alone establish his value in the international market.
Only recently Messi's transfer came into the limelight after reports suggested the Argentine has a frosty relationship with Barcelona manager Luis Enrique, with the player's agent reportedly holding talks with other clubs.
However, Messi vehemently denied the reports after Barcelona's comprehensive win over Atletico Madrid on Sunday. "I don't demand anything for me to stay because I have no intention of leaving anywhere," he told Barca TV. "I've heard stories I've spoken to Chelsea or City, that's all lies."
With Messi, though, again suggesting anything is possible, when it comes to his future, on Monday, those rumours of an exit have gathered pace one more time.