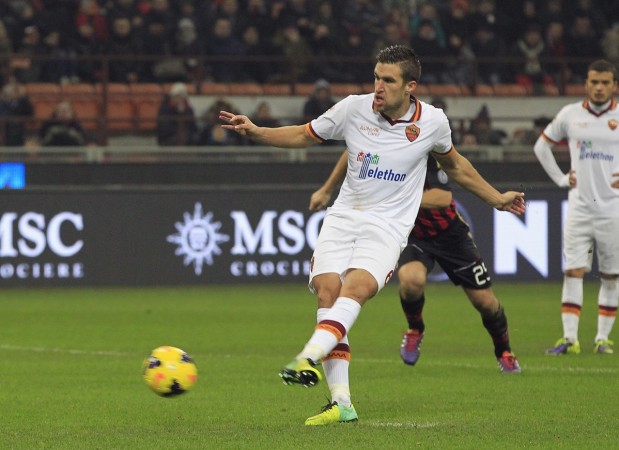 Roma sporting director Walter Sabatini has stated that midfielder and Manchester United target Kevin Strootman is not for sale.
The Red Devils have been linked with an approach for Strootman for some time now as Louis van Gaal is believed to be interested in bringing his fellow Dutchman to Old Trafford, having already worked with him in the national side.
United did not make a formal move for the 24-year-old in the summer transfer window as he was sidelined with a serious knee injury. Reports suggested that the Red Devils would be looking to make a fresh move for Strootman in the winter transfer window but Sabatini has now said that the player would not leave Roma in January.
"He is an extraordinary player, and these rumours [of his sale] have been based on the desires of other clubs," Sky Sports News quoted Sabatini. "We want to keep him, he is our point of strength. We hope to see him back in the field with all his powers. He played an exemplary role last season.
"Of course he is unsellable, but we must contextualise that I do not say he is for sale. We receive offers, protect him and defend him, but I do not know what will happen.
"For now we enjoy him even whilst he is injured. We are not thinking in any way of selling him, we hope to have him return. We must have patience and wait, he is a decisive player."
Meanwhile, Sabatini also admitted that Roma are interested in securing the signature of Paris Saint-Germain's highly rated teenage midfielder Adrien Rabiot in January.
"He is an exceptional player. We like him very much. He is a player that we would like and we will discuss him properly, we will not wait to sign him on a free transfer. If we have the privilege and the desire to negotiate for Rabiot, we will do so in agreement with Paris Saint-Germain."
However, Sabatini admitted that securing Rabiot's signature will be difficult as his contract details with PSG are not known and he is being pursued by a host of other big clubs.
"But I believe it will be difficult, as his contract situation is unknown. We will try to work on this as something between clubs of great prestige."