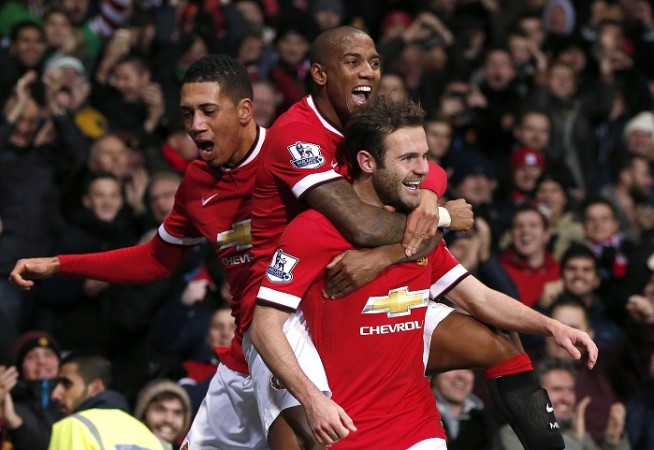 David De Gea showed he is the reincarnation of Superman yet again, pulling off an outstanding save in the final stages of the game to ensure Manchester United would take all three points from their English Premier League game against Stoke City and firm their grip on a top four place.
Manchester United had gone into the lead in the 21st minute courtesy a Marouane Fellaini header, only for Steven N'Zonzi to equalise with a wonderful finish six minutes before halftime.
Juan Mata, who has scored some vital goals already this season, proved to be the matchwinner, with his freekick from the right floating into the back of the net, with or without a brush off the hair of Marcos Rojo.
"The second goal was Juan Mata's, because he took the freekick," said Manchester United manager Louis Van Gaal after seeing his side pick up their fourth consecutive win in the Premier League. "Rojo is running across the goalkeeper, making it difficult for him to catch the ball, that's something we work on in training.
"I'm very happy it paid off during a game, and not only during a training session."
Stoke City manager Mark Hughes was plenty aggrieved by that goal, because he felt Rojo, even if he did not touch the ball, was offside.
"The lad Rojo, it doesn't matter if he doesn't touch it, he is clearly interfering with play," said Hughes. "So the referee and his assistant should have cancelled that out. It's the luck we're having at the moment."
The luck would not get any better either as De Gea pulled off a magnificent save to deny former Manchester United forward Mame Biram Diouf, before Diouf was stopped from celebrating an equaliser again by a last-ditch clearance from Ashley Young and the Goal Decision System.
"We were lucky at the end but we deserved to win," said Van Gaal. "Victories are always valuable because you have to win at a top club. If you want to climb the table, you have to win. In England, there are no easy matches. Last weekend, every match in this league was close, so I'm very happy with the win.
"Of course it was a relief -- we have to kill games off much earlier. We had some big chances, [Ander] Herrera in the first half and Fellaini and [James] Wilson in the second. If we had scored one of those, the game would have been over. But, when the scores are close and you have the likes of [Peter] Crouch coming on to face long balls, the ball can fall anywhere so we were lucky towards the end. I think we deserved to win.
"I want to wait until after our next match [to assess things], but we're in a very good moment. We've won four matches in a row, which is a very good achievement in the Premier League. I want to see what happens against Southampton -- when we win a second consecutive away match, then we'll have great momentum."
Van Gaal admitted it was not the best of performances, especially towards the end when they were desperately hanging on to that 2-1 lead, but the only thing that matters is the final result – and that certainly read in Manchester United's favour.
"It was not our best performance," said the Dutchman. "We were not aggressive enough in the first half, we didn't keep our position on the pitch. I was not pleased at halftime, and I told them.
"The second half was better, we created more chances but we need to score more goals. The last few moments were not necessary but it is always like that. We have struggled until the end in the Premier League, but it is common. I'm happy with the result.
"Tomorrow we have a Christmas party and it's important we can enjoy that."
Van Gaal will be especially pleased with the victory seeing as it came without two of his main men – Angel Di Maria and Wayne Rooney – who were ruled out with hamstring and knee injuries respectively.
James Wilson made his first start under Van Gaal, and the striker could have capped off that start with a goal in the second half when he was sent clear only for those nerves to come to the fore.
"Wilson could have scored, when he does score, everyone will be even happier with him," added Van Gaal on Tuesday. "He usually scores in training, but today he didn't, and that's the difference between training and matchday."
Other results: Crystal Palace 0-1 Aston Villa; West Brom 1-2 West Ham; Burnley 1-1 Newcastle; Leicester City 1-3 Liverpool; Swansea 2-0 QPR.