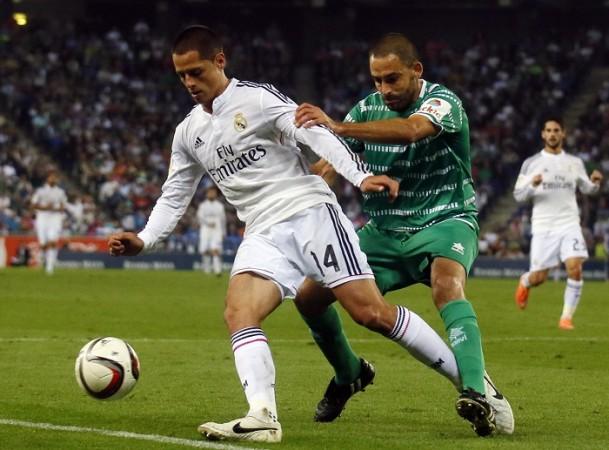 Arsenal and Liverpool are ready to make a bid for Manchester United striker Javier Hernandez, who is currently on loan at Real Madrid .
Reports recently suggested that Real Madrid would not be taking up their option to buy Hernandez at the end of the season, which would mean that Hernandez will have to return to Old Trafford in the summer.
However, with Louis Van Gaal currently having an embarrassment of riches at his disposal from an attacking point of view – and Manchester United continue to be linked with several more high-profile strikers – Hernandez is likely to be sold by the club in the summer transfer window.
Arsenal and Liverpool are ready to take advantage of Hernandez's potential availability by making a £12 million summer bid for the Mexico international, according to the Daily Star, who cite reports in Spain.
Chances for Hernandez at Real Madrid have been few and far between, even if he has performed reasonably well during that short game time.
The one thing that is undoubted about Hernandez is his ability to finish off chances and the penchant to be at the right place at the right time, something that just cannot be taught.
Liverpool are certainly a club who can use a player of that ilk, and Brendan Rodgers would jump at the chance of being able to sign Hernandez for £12 million, considering his current strikers have failed to fire this season.
However, Manchester United are highly unlikely to agree to sell their player to their big rivals. A transfer between Manchester United and Arsenal also would not have seemed possible a few seasons back, but after the Robin Van Persie move, everything changed with Danny Welbeck switching to the Emirates in the summer as well.
However, while Liverpool desperately need a striker who knows exactly where the back of the net is, it is questionable if Arsenal require a player like Hernandez.
Arsene Wenger has a plethora of options in the attacking department, even if goals have not exactly flowed, and the last thing that Welbeck will want is to see the player he was in competition with at Manchester United move to Arsenal.
What Arsenal require at the moment, and probably in the summer transfer window as well, is a central defender and a defensive midfielder, and Wenger is expected to dip into the transfer market in search of those players rather than spend money on another striker, even if it is only in the summer.