Gary Neville has urged Paul Pogba to become a match-winner for Manchester United following his impressive display in the second half in his side's 3-2 win over Manchester City.
Jose Mourinho's side were 2-0 down against City at half-time Saturday. Guardiola's side had an opportunity to seal the title, but two goals from Pogba and Chris Smalling meant United became the first side to beat the Citizens at the Etihad this season.
Pogba had colored his hair blue and that attracted some comments from a section of pundits and football fans. The France international has struggled with his form in recent times, which saw the former Real Madrid and Chelsea manager dropping him from the starting XI in a few matches.
However, the 25-year-old was the star player for United in their derby victory over City. Neville wants the former Juventus star to be consistent in helping the Red Devils win matches regularly.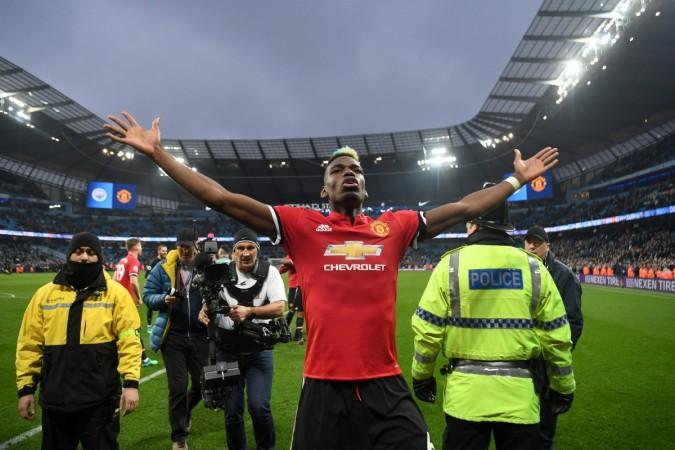 "I've said all year, Manchester United are a far better team with Paul Pogba in it. He brings arrogance, confidence and belief," Neville told Sky Sports.
"But when you're a player who is signed for that money, when you dance like he does and when you've got hair like he has you have to play well and you have to match it.
"It's no good shouting and singing and not playing. You have to play well and he hasn't in the last couple of months and he's fallen out with his manager. It's a difficult situation.
"Manchester United have shown great faith in him to deliver, they paid a lot of money for him, and there's a large expectation.
"The Manchester United badge carries a large responsibility. Manchester United fans don't want robots, they want characters, but it's then demonstrating it on the pitch and doing it consistently.
"He hasn't done that in the last couple of months, but he is a good lad and a good player and I hope for him and for United that he can start now to affect the biggest matches and win the biggest games.
"That's what he was brought in to do and today was a big, big turnaround for him. He needed that second half like you wouldn't believe."
Meanwhile, Pep Guardiola revealed in his pre-match press conference that super-agent Mino Raiola offered Pogba and Henrikh Mkhitaryan to the Etihad outfit in the mid-season transfer window.
Mkhitrayan left Old Trafford and moved to Arsenal as a part of the deal that saw Alexis Sanchez moving in the opposite direction. Guardiola made those claims a day before the Manchester derby at home.
Mourinho, in his pre-match interview, stressed that either Guardiola or Raiola is lying. Neville said the City manager and Pogba's representative are capable of lying, and called the latter a joke.