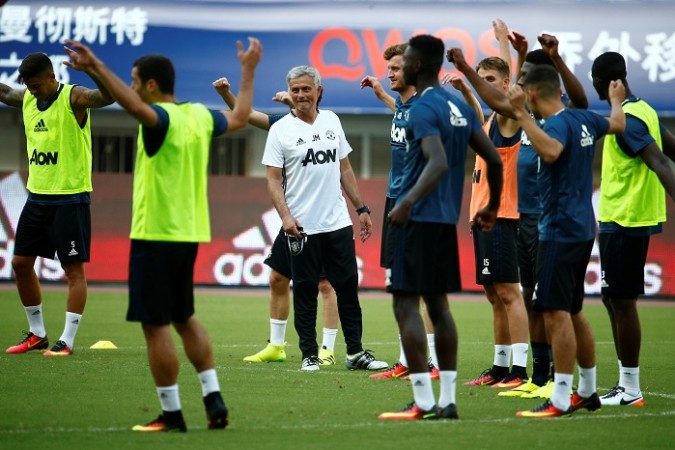 Manchester United's pursuit of Paul Pogba is an open secret and how close they are to signing the France midfielder from Juventus depends on what newspaper or website you read. Jose Mourinho played the "I'm giving nothing away" card when asked about Pogba's potential signing, even if the Portuguese remained confident that the club would sign the central midfielder that he asked for when he took over as the new manager at Old Trafford.
Four players in four positions is what Mourinho wanted after replacing Louis Van Gaal, and Manchester United executive vice chairman Ed Woodward has managed to give his new manager three of those – Eric Bailly, the centre-back, Henrikh Mkhitaryan, the attacking midfielder, and Zlatan Ibrahimovic, the striker.
Now, all that remains is a central midfielder, with Pogba thought to be Manchester United's primary target. Asked about where the move stands at the moment, with some reports suggesting the transfer is ever closer, Mourinho was coy.
"I don't confirm and I don't deny," Mourinho told reporters in China, where Manchester United are set to play two preseason games, starting with the one against Borussia Dortmund on Friday. "I cannot tell.
"First of all because I don't think it's correct to speak about players from other clubs. He's a Juventus player, not a Manchester United player. The only thing I can say is that my board, my directors, did a fantastic job to do 75% of the job I asked them to do."
The other 25% remains equally important, especially if it is Pogba, since a transfer from Juventus will mean a world record fee. The pressure on the Portuguese to deliver after bringing in a player who has suddenly become the most expensive on the planet will be immense.
While the former Chelsea and Real Madrid manager was not forthcoming about the Pogba transfer, he did reveal that Manchester United have other options, two more of them, if a move for the 23-year-old does not work out.
"We know the profile of the player we want, we have three faces who fit the profile," Mourinho added. "I am really confident Mr Woodward and the owners can get the profile of the player I think the squad needs.
"I asked them for four profiles of players, I gave them a few options and they did for me 75% of the job and we just have 25% to do before August 31. So we are in a great position to do what I consider will be a great market for us."
Pogba's French compatriot and PSG midfielder Blaise Matuidi is also thought to be a target, while the other option could be Nemanja Matic, the Chelsea player, who played under Mourinho, but has fallen down the pecking order at his current club following the arrival of N'Golo Kante from Leicester City.
Matuidi and Pogba are more box-to-box midfielders, while Matic is a screener, who likes to protect his back-four. So, it remains to be seen what the exact profile of the midfielder is that Mourinho is looking for.