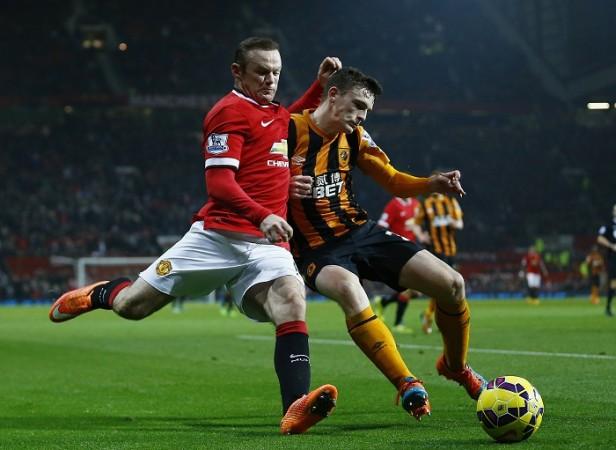 Manchester United managed to come away with a victory over Stoke City in their English Premier League game without two key players –Wayne Rooney and Angel Di Maria – and the immediate question was always going to be "how bad is the injury, and how long will they be out?"
Well, Louis Van Gaal was asked those particular questions after the 2-1 victory over Stoke, and the manager had encouraging news to give, from Manchester United's perspective, but maybe not so much from their upcoming opponents'.
Di Maria and Rooney both missed the game at Old Trafford on Tuesday, with the exclusion of the skipper particularly surprising considering both the player and the manager had gone into the Stoke City game confident of being fit and ready.
However, Rooney was not deemed fit enough to be in the squad against Stoke, with James Wilson taking his place in the starting lineup, and Van Gaal remained confident that his captain will return to action soon from a knee injury, even if the full extent of the problem will be known only after a scan on Wednesday.
"It's his knee, but we have to wait for tomorrow to say anything about him because you never know with a knee," said Van Gaal on Tuesday.
"My opinion is it is not so heavy [serious], but I am not a doctor. So we have to wait for the scan then we will know more.
"But I hope it is not so heavy."
Di Maria was expected to miss the Premier League game on Tuesday, after he was taken off after just 13 minutes in the 3-0 win against Hull City at the weekend.
The Argentine's wife Jorgelina had taken to social media to reveal her husband had only suffered a "small tear" on his hamstring and Van Gaal confirmed the diagnosis. Di Maria, though, will most likely miss the match against Southampton on Monday.
"Di Maria is not so heavy but of course he shall not play against Southampton," added Van Gaal. "But you never know."
Van Gaal also gave an injury update on Daley Blind, who has been sidelined since the last international break with an ankle injury. Van Gaal believes the Netherlands international midfielder/defender could return to action by the end of the month.
"It's not so heavy as I have already said," Van Gaal added. "[He will not return] next week, I don't know... Christmas maybe -- maybe Christmas.
"At the end of December maybe we see light at the end of the tunnel."