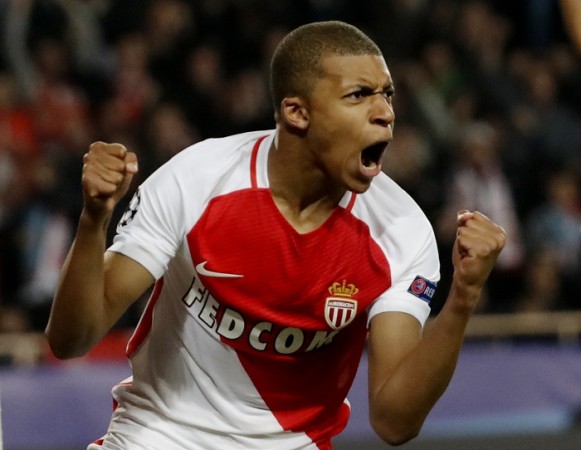 A number of Premier League teams including Manchester United, Arsenal and Tottenham Hotspur were keen on landing Monaco's 18-year-old attacking player Kylian Mbappe. But they have received a huge blow with Monaco's vice-president, Vadim Vasilyev, stating that he wants to keep the youngster in the club.
Manchester United targets Kylian Mbappe as Griezmann deal falters
The future of Arsenal manager, Arsene Wenger, may still be unclear, but the club's scouts are already looking for players, who can strengthen their squad for next season. No wonder, when Monaco hosted Manchester City in the Champions League second leg, Arsenal scout Gilles Grimandi was present at the venue, most probably to watch Mbappe.
Mbappe was one of the bright players for Monaco, who have managed to reach the quarterfinals of the Champions League with a win over City on away goals. Mbappe scored a goal, to impress all and sundry. With Alexis Sanchez also uncertain about remaining with Arsenal for next season, the Gunners' interest in Mbappe makes huge sense.
As for United, they are always in the market to sign quality players, and with such a young star in the making, likened to France star Thierry Henry, it makes great sense for United to snap the player. After having signed Anthony Martial from Monaco few seasons ago, United could fancy their chances on the youngster too.
But, clubs pursuing Mbappe's signature might not like what Vasilyev had to say about the 18-year-old's summer transfer. "Our intention is to keep Kylian Mbappe. He is a product of our youth academy. He is our DNA. I am very proud," Vasilyev told RTL.
However, there is plenty of time for the next season to start, and if Premier League teams are aggressive in their bidding, it would not be a surprise if they manage to prize Mbappe away. After all, youngsters like Mbappe will always aim to play in the Premier League, and join clubs like Manchester United.