Former Manchester City midfielder Yaya Toure has accused Pep Guardiola of having unfairly treated African players from at the Premier League club as well as at his former La Liga side, Barcelona.
Toure revealed he is not the first one to talk about Guardiola's partial treatment but that several players at the Catalan club had also wondered the same. The 35-year-old also challenged his former manager, saying he would send the Spanish tactician a cake the day he picks five Africans in his line-up.
The former Ivory Coast international joined Manchester City in 2010 for £24m after he was deemed surplus at Camp Nou during Guardiola's time in charge. Ever since, Toure went on to play 319 matches for the Citizens over eight seasons and achieved the status of a club great, winning three league titles and the FA Cup once.
However, the veteran started in only in one game, against Brighton in May at the Etihad Stadium, in his final season at City.
Toure also believes Guardiola "stole" his "farewell at City" and said he wanted to leave the club the way Andres Iniesta (Barcelona) and Gianluigi Buffon (Juventus) did.
On the contrary, Pep Guardiola had said before the Brighton tie that the Ivory Coast star got "one of the most beautiful farewells a player can receive."
Want to be the one who breaks the Guardiola myth: Toure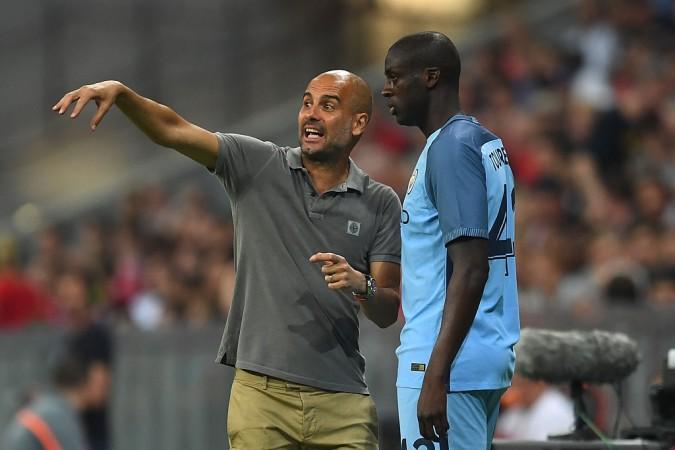 "I want to be the one who breaks the Guardiola myth. I think I was dealing with someone who just wanted revenge on me," Toure told France Football, as quoted by The Telegraph.
He added: "I do not know why, but I have the impression that he was jealous of me, that he took me for a rival. There you have it. We always looked at each other weirdly. It was as though I made him a little nervous."
I am not the first to talk about these differences in treatment. In Barca, I know that some people have also wondered.

Maybe we Africans are not always treated by some in the same way as others ... when we notice that he often has problems with Africans, wherever he is in the past, I'm wondering.

The day he will line up a team in which we will find five Africans, not ones with citizenship, I promise I will send him a cake.
Guardiola had even conceded ahead of Toure's last match with City that he had committed a mistake by selling the midfielder during his time at Barcelona. He had preferred Brazilian Fernandinho over the veteran for the role of holding midfielder for the most part of the season.
Despite leaving the Premier League champions, Toure insisted he would continue playing and even hinted he would want to join Paul Pogba at City's arch-rivals, Manchester United.