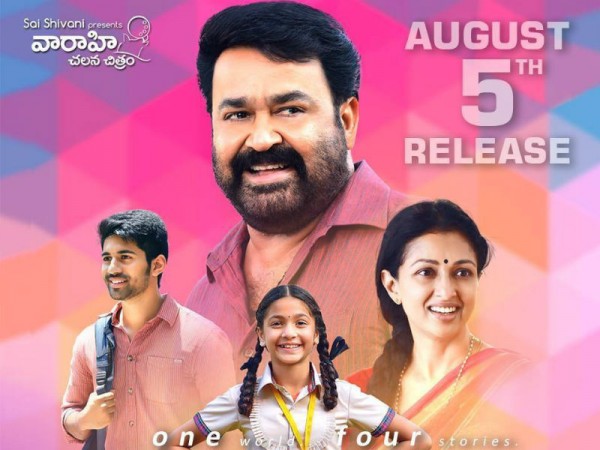 Director SS Rajamouli, Gopi Mohan, Shashank and other Telugu celebs lauded Mohanlal's performance and Chandrasekhar Yeleti's direction in "Manamantha," which has been released in theatres on Aug 5.
SS Rajamouli, who is busy shooting for the climax of "Baahubali 2," took some time off from his busy schedule to watch "Manamantha" in the first show on the first day. Later, the director, who was impressed with the movie, took to his Twitter handle and praised the director and Malayalam superstar and other members of team. Here is the series of comments posted by the "Baahubali" helmer.
SS Rajamouli ‏tweeted: Minutes to #Manamantha... All the best to Saigaru, Chandu and @VaaraahiCC . #Manamantha will remain a top class film in the career of chandu and vaaraahi chalana chithram. Chandu has a knack of extracting fantastic Performances from his actors. From a seosoned actor like mohanlal garu to a 4 year old kid every one will make you smile laugh and cry and Will remain in our hearts and thoughts for a very long time.The way the film began the way it was weaved and the way it ended is a text book For every film student.Congratulations2 the entire unit. Everyone who worked in the film can proudly say he/she is a member of #Manamantha
His son SS Karthikeya, who is working as a production executive for "Baahubali 2," also watched the film with his dad and lauded the team. He wrote: "#Manamantha Is a classic! Will be remembered in the history of Telugu cinema! Proud of you Chandu Babai and Sai Garu. One of the Best writings, screenplay, casting and performances come together to take us on a fun nail biting heart wrenching emotional ride. Top notch performances by each and every character. Special mention to the 2 kids - was addicted to them throughout. A classic experienced!"
Gopi Mohan tweeted: "BestWishes to #Manamantha.Film has all the qualities of a classic.Good film from Chandu Yeleti:)"
Actor Shashank: Just experienced a CLASSIC called #Manamantha This film is gonna remain long in everyone's heart Take a Bow Chandu Sir 4 giving us this Everything associated with #Manamantha is exceptional be it performances, screenplay, writing, technically, top notch production values Hearty congratulations to the entire team of @VaaraahiCC Supremely directed by #ChandraSekharYeleti Super happy for Chandu Sir n Sai Garu TFI truly Shining #Manamantha has raised the bar higher Go watch at a nearest theater soon all my lovely tweeples here Highly Recommended Salute to you @Mohanlal Sir for the kind of dedication which is an inspiration for every actor...simply loved you in #Manamantha #Vismayam