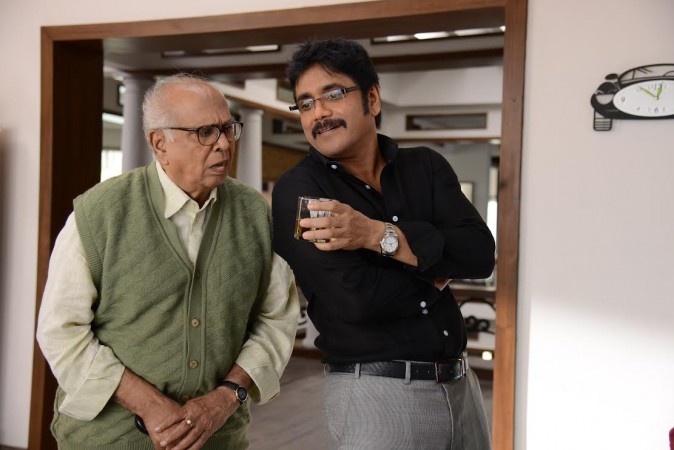 The family drama film "Manam" is heading for strong second weekend at the Andhra box office. Due to the positive reviews, the film managed to rake in ₹19 crore from worldwide box office in week one.
Check out the first week breakup of collections HERE
"Manam, " which tells the story of three generation, targeted audiences of all the age group which served as positive factor in the collection.
"After recording a fabulous opening worldwide, 'Manam' has given a new push with demand for bookings for exclusive screenings by families and friends," a statement from the makers read.
The film features Nageswara Rao, Nagarjuna and Naga Chaitanya in important roles.
"Manam" is Chaitanya's biggest grosser film till date, while for Nagarjuna "Damarukam" is the biggest grosser.
If "Manam" continues to maintain the same pace at the box office, then it will soon break "Damarukam" record and will become Nagarjuna's highest grosser film ever.
Meanwhile, the family entertainer has managed to pull audiences towards it in overseas market also. In its first week, the film accumulated ₹6.62 crore from the US box office.
"Telugu film #Manam closes Week 1 in USA with a FANTASTIC $ 1,120,969 [₹ 6.62 cr]. Few locations yet to report. Details in next tweet," trade analyst Taran Adarsh tweeted adding, "#Manam [Telugu - USA] Mon $ 166,541, Tue $ 38,370, Wed $ 32,370, Thu $ 22,788. Total: $ 1,120,969 [₹ 6.62 cr]. Some screens yet to report."
"Manam" holds a special place for Nageswara Rao's fans as it is his last movie. Nageswara Rao passed away on 22 January, but before dying he finished the dubbing of the film.
"Fifteen days after surgery he was at home in bed when he said, "Bring all the dubbing equipment and do my dubbing for 'Manam' before I get worse, or you will get a mimicry artiste to do my dubbing," he told his son Nagarjuna 15 days after he had a surgery and was in bed. "He made sure he completed the film," Nagarjuna said, according to The Times of India.