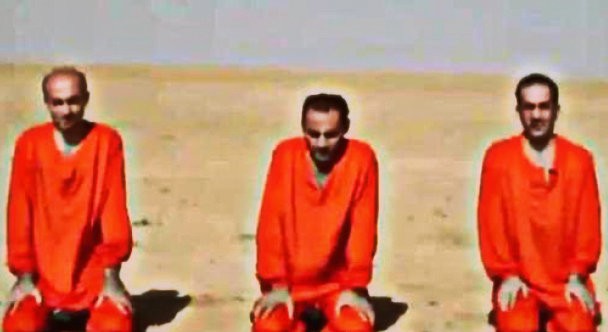 A man, believed to be an infamous executioner called the Bulldozer who works for the Islamic State group (also referred to as ISIS), has reportedly been captured by the Syrian Army. A video has surfaced on the internet recently showing a topless overweight man lying on the back of a truck with his hands tied behind his back. The location where the video has been shot is not known.
The Bulldozer is known for carrying out public executions with a three-foot sword. He reportedly got the nickname in 2014 after an image of him carrying a powerful five-foot-long 52kg Browning machine gun with armour-piercing bullets on his own surfaced on the internet. The weapon is usually mounted on trucks and tankers to target aircraft, the Daily Mail reported.
Images of he beheading two men in Iraq's Anbar Province had also surfaced on the internet after the executioner became a known face.
The large man is a member of the ISIS' Chopping Committee that punishes those who refuse to follow the group. He had reportedly chopped off the hand and foot of a 14-year-old who had refused to join ISIS last year. The boy had apparently saved an image of the man on his phone.
In March 2016, a video showing a man dressed in khaki overalls executing three Kurdish Peshmerga soldiers had fuelled speculation over he being the Bulldozer, who previously appeared in black garb and a mask.
The real name of the ISIS executioner is not known yet. The Bulldozer and Jihadi John had gained notoreity after videos of them executing opposition fighters and others had surfaced.