Hardik Pandya has become the darling of Indian cricket, helping the nation win matches with his brilliant all-round performances. Besides his on-field skills, the youth icon is one of the most flamboyant players in the Virat Kohli-led team.
The right-hander, who has been rested for the upcoming Test series against Sri Lanka, is also active on social media. Pandya does not shy away from positing pictures with his teammates, while going for dinner, and also posts some stylish photos of himself too.
However, it is not only Pandya, the present bunch of Indian players led by Kohli, have their share of fun on social media. And with Indian cricketers being one of the most followed on social media, people get a peek into their private lives too. The likes of Shikhar Dhawan, Rohit Sharma and others are also active.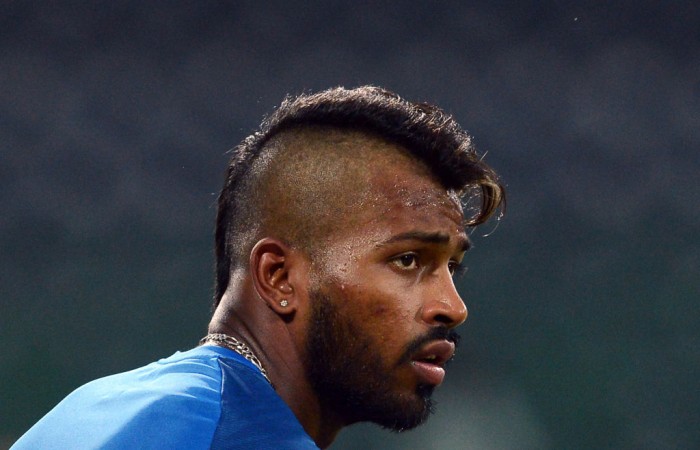 The Baroda man, likewise, posted some stylish photos, where he spotted a dapper look in some well-tailored formal wear.
He posted a picture over the weekend with a new hairdo.
Though his makeover did receive some positive feedback, there were some people, who were not too happy with such style. And they took a dig at Pandya and his new look, comparing him to Lady Gaga and some even said that he should concentrate on playing cricket, rather than doing such kind of things.
Here are some of those negative tweets.
Abe chindi chor batting par focus kar... ye maathe par painting krane se kuch nahin hoga

— Karan (@karanku100) November 11, 2017
Joker Jesa Look Kyu Rkh Rha Bhai ?

— N I S H A N T. (@NishantADHolic) November 11, 2017
Na Bhai,bilkul Charlie Chaplin lage chhe..!!

— Yogesh Rajput (@YogeshR88882157) November 11, 2017
Male version of Lady Gaga

— Dexter (@MunnaKaTunna) November 11, 2017
Hardik Bhai kya hogya h tuje...thik toh h na tu...
???

— Saurabh Kokane Bunny (@bunny_saurabh) November 11, 2017
Bhai #Cricket पर focus kar... यह करने के लिए ज़िन्दगी baki hai.. @hardikpandya7

— Surendra Singh (@rvdsuri88) November 11, 2017
If anyOne of uh wants to get the worst hairstyle ! Pls contact @hardikpandya7 .
Only he has the copyRight fr it ??
?

— Shivam Dhingra (@prudent_shivam7) November 13, 2017