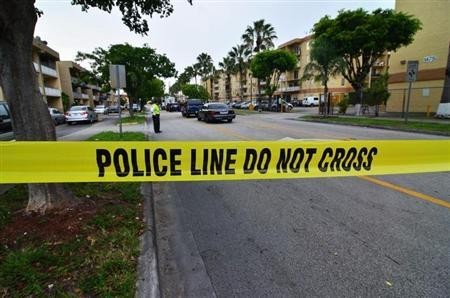 Malaysian police have gunned down a five-member gang responsible for the recent spate of killings at an encounter in a service apartment early Monday morning in Malaysia's George Town area.
The gang believed to be the notorious '04 gang', comprised mainly youths in their 20s, three of whom held crime records.
Police had barged into the 11th floor Century Bay service apartment after a knock on the door failed to evoke any response. Rounds of bullets were exchanged as the suspects open fired at the officials. The gunfire which continued for about 30 minutes ended with all the suspects being eventually brought down.
According to a New Strait Times report, police have recovered three pistols from the three-bedroom apartment which was the miscreants' hideout.
The five suspects have been identified as J. Gohinath (31), R. Ramesh (27), A.Vinuvt (23), M. Suresh (25) and M. Gobinath (21), reported the Malay Mail Online.
Further details of the encounter will be brought out by Inspector General of Police Tan Sri Khalid Abu Bakar at a press conference later in the day.
The latest crackdown is an attempt of the latest measures adopted by Malaysian authorities to bring the lawless situation of the country under control post the series of brutal shootings witnessed recently.
Only days ago, a Malaysian-Indian was shot 14 times at a traffic junction. In a separate incident on the same day, miscreants opened firing at a businessman's bungalow after a failed extortion bid. A third incident was reported wherein a nightclub bouncer was shot seven times but escaped with a bullet injury in his thigh.
Voicing concern for the growing tension and fear among natives, Prime minister Najib Razzak has called for immediate action to tackle the situation.