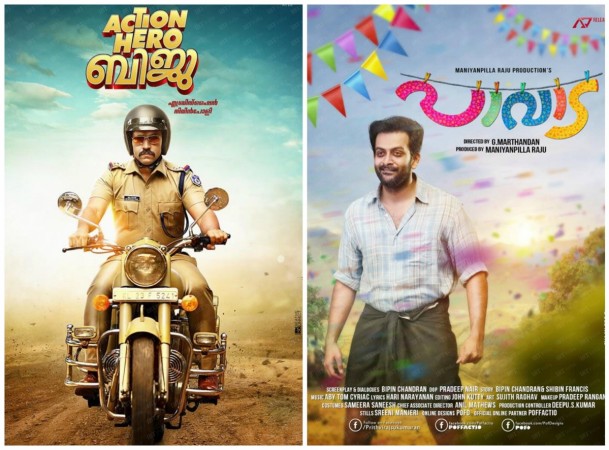 Nivin Pauly's latest Malayalam flick "Action Hero Biju" has been garnering positive reviews from movie-goers after it was released on Feb. 4 in Kerala. The movie hit theatres all over India and in the US on Friday, opening to positive reviews.
The Abrid Shine directorial is said to have collected approximately Rs 1.59 crore on the opening day in Kerala and the film's weekend gross amount from two screens in the US is $10,625 with a total gross amount of $10,635 [Rs 7.23 lakh], according to Bollywood Hungama. The movie was screened in more than 10 screens and the details of the collection from other screens have not been revealed yet.
Read More: Action Hero Biju Review
Meanwhile, "Paavada", starring Prithviraj Sukumaran and Anoop Menon, is also doing well at the US box office, after it was released on Jan. 29. The movie had collected a total gross amount of $23,379 [15.86 lakh] from seven screens on the opening weekend and the screen count of the flick was increased to 12 during the second weekend. The G Marthandan directorial has grossed $10,373 from 12 screens in the second weekend of its run at the US box office and the total gross collection after two weeks is now $39,820 [Rs 27.06 lakh].
Read More: Paavada review
"Action Hero Biju" is expected to do tremendous business in the next week as well, as the movie will be screened in more number of theatres on Feb. 12 in the US. "Action Hero Biju" and "Paavada" are set to become the first blockbusters of Nivin Pauly and Prithviraj in 2016, respectively.
While Nivin's previous movie "Premam" changed his career graph, "Paavada" is expected to be the fourth back-to-back hit of Prithviraj after his hit films "Ennu Ninte Moideen", "Amar Akbar Anthony" and "Anarkali". "Paavada" will be releasing all over G.C.C this weekend, and is expected to do rocking business.