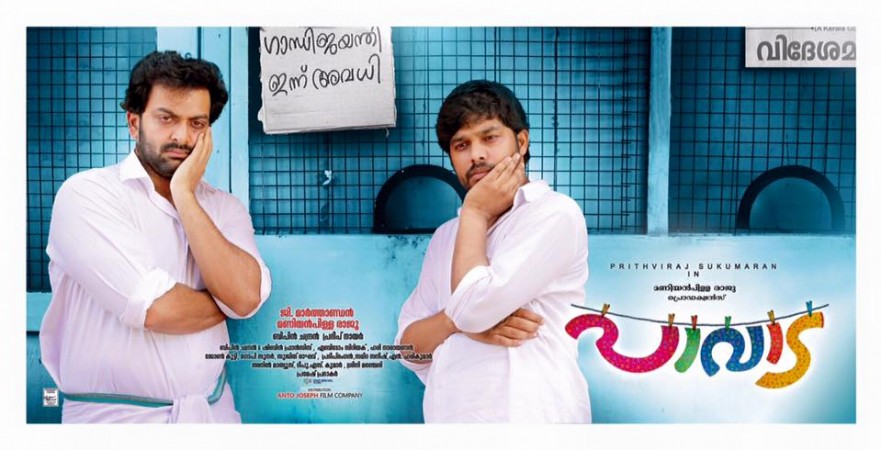 IBTimes rating: 3
With a perfect blend of comedy and emotional moments, Prithviraj Sukumaran and Anoop Menon-starrer "Paavada" is a family entertainer, though it narrates the story of two drunkards. Even though there are many flicks in Malayalam with drunkard protagonists, what makes "Paavada" different is how alcoholism is depicted in an interesting way.
Plot
"Paavada" revolves around the life of drunkards Paambu Joy, played by Prithviraj, and Professor Babu Joseph, played by Anoop Menon. Joy is a carefree man who always spends his time in toddy shops with his friend Vilakoothi Rajan (Sharafudheen). Joy gets married to a nurse, Sinimol, and his drinking habit affects their relationship, following which they live separately. Later, Joy joins a de-addiction centre, where he meets Babu. How they get to know each other and what connects their past life form the gist of the movie.
Performance
The movie's trailer and songs led to anticipations of Prithviraj overacting in "Paavada". Surprisingly, he has done a good job by entertaining the audience with many humorous dialogues in the first half and his emotional avatar in the later half of the movie. Anoop was the best casting option for the role of Babu, an ageing professor who recites the works of William Shakespeare throughout the movie. "Paavada" has an ensemble cast, including Nedumudi Venu, Maniyanpilla Raju and Miya George in pivotal roles. Though appearing for short time, Sudheer Karamana, Chemban Vinod, Murali Gopy, Asha Sarath, Renji Panicker and Siddhique do an appreciable job in "Paavada". After "Drishyam", Kalabhavon Shajon makes an appreciable comeback as an antagonist in the movie.
Scripting and Direction
Bipin Chandran, who has scripted movies like "1983" and "Best Actor", has managed to incorporate some fresh comic elements in the first half of "Paavada". The plot got a serious tone in the second half, discussing a major issue within the film industry. With "Paavada", G Marthandan has successfully made a comeback as his previous movies couldn't make a mark at the box office.
Technical aspects and music
Pradeep Nair's cinematography, Aby Tom Cyriac's songs and Gopi Sunder's background score are the other highlights of the movie. The song "Kuruthakedinte Koodane", sung by actor Jayasurya, has already become one of the most popular songs of the year, even though there are instances where Prithviraj is seen overacting.
Drawbacks
The attempt in making the post-interval part a bit serious was somewhat a mix of Aneesh Upasana's 2012 film "Matinee" and Akku Akbar's "Vellaripravinte Changathi" (2011). The little old-fashioned melodrama in the later half of the movie could have been depicted in a better way.
Final verdict: "Paavada" is entertaining and can be called the fourth superhit movie of Prithviraj in a row. It will not disappoint if you watch it without much expectation.