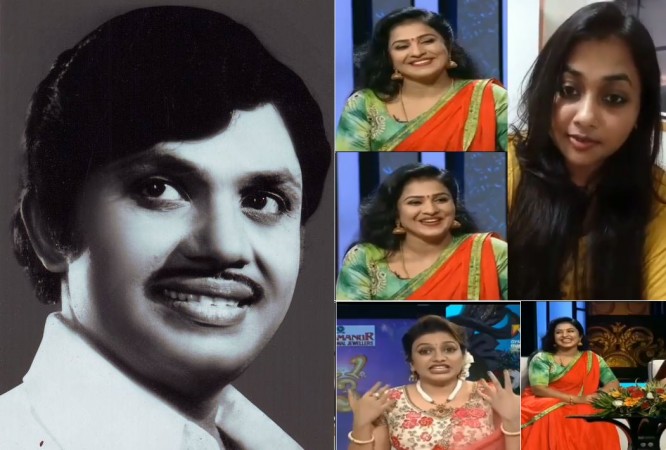 Malayalam actor Jayan (Krishnan Nair), who died in a tragic accident during the shooting of the hit movie Kolilakkam, is still remembered as the superstar of Mollywood even after 37 years of his demise. The actor's macho image, unique style and dialogue delivery make him an iconic figure of popular culture among Malayalis around the world.
Read more: Remembering 'Kolilakkam' superstar Jayan
However, two family members of Jayan are now making headlines for all the wrong reasons with regard to their relationship with the actor.
TV actress Uma Nair has recently attended Rimi Tomy's popular show Onnum Onnum Moonu and it has sparked a controversy on social media. During the programme, Uma introduced herself as the niece of Jayan.
"I am Jayan's younger brother's daughter and my father's cousin is Jayabharathi. I was not lucky enough to meet him. He passed away in 1981 and I was not born then. My father's mother and Velliyachan's (Jayan) mother are sisters. There are many people who knows I am Velliyachan's family member and his another brother's son is also in the industry. So when we meet people in the industry, they treat us with respect [translated from Malayalam]," she is heard during the show.
After the show's telecast on Mazhavil Manorama, a video of a netizen named Lakshmi Sree Devi, daughter of Jayan's brother Soman Nair, surfaced online in which she claims of not knowing Uma as her family member.
"Jayan's only brother Soman Nair is no more and he is my father. I have two elder siblings and my brother Adithyan is very active in cinema and serial industry. I have settled down in New Zealand for almost 1.5 years, but when I was in kerala, I never met the person seen in the interview. I am surprised to know how I haven't seen this close relative yet," Lakshmi is heard saying in the video posted on Facebook.
"Since my childhood days, I have heard many things about Velliyachan from family members and it is so difficult to accept when someone randomly comes and claims relationship. Every year on November 16, people from different parts of Kerala visit our home and we haven't met this person at all. So I am very confused," she added.
Lakshmi also corrects Uma that Jayan passed away on November 16 in 1980 and not in 1981 as she said during the show.
"People who love Velliyachan are aware of all these personal details about him. She also claims to be the daughter of my grandmother Bharathi's sister. But I am completely not aware of this relationship. So, I would like to know more about this person. I am not trying to hurt anyone through this video, but want to get some clarity on the matter," she said.
Meanwhile, Uma has now come forward with an explanation in another video on the controversy. In the video, she shows a photograph of her grandmother and Lakshmi's mother having food together.
"I wanted to give a reply to Lakshmi through this public platform for not knowing her family background well. This is the photo of Lakshmi's mother and my grandmother. I am part of the entertainment industry for over 27 years and I have never tried to influence people being Jayan's family member. Since he was like a brother for my father, he is my Velliyachan," Uma claims.
"Velliyachan has a brother Soman Nair and Lakshmi is his only daughter and I think she got hurt thinking I am trying to take her position. Dear sister, I don't want to do that and none of my family members interfere in your family matters. I only met Lakshmi's brother on the location of the Pavithrabandam serial and we have only behaved like colleagues. Just because she hasn't met or heard about me, she cannot insult me like this. If I approach the court with a defamation case, I will be submitting all the necessary evidence to prove my stand.
Watch the viral videos here:
[Update: The videos have been removed from the Facebook page of Lakshmi and Uma]