Malaika Arora Khan and Arjun Kapoor's dating rumours had been doing the rounds of the internet ever since tension started building up between the former and her estranged husband Arbaaz Khan. But the fire dozed off after reports of Malaika and Arjun's break-up began surfacing last year. It was believed that the constant media attention led the rumoured couple to put an end to their relationship. But it looks like there is still some smoke left between the two rumoured lovebirds.
Arjun Kapoor, who is currently in Madrid to promote Spanish football league, posted a selfie with the Portuguese football star Cristiano Ronaldo on Monday, May 14, on Instagram. "Amazing feeling meeting & talking football with @cristiano !!! Heck of a player, heck of a guy. All the best for Kiev & Russia. Thank you @amtouristerin for this... Truly," read the caption on Arjun's Instagram post.
While Bollywood celebrities like Abhishek Bachchan, Tiger Shroff and Sonam Kapoor's husband Anand Ahuja were going gaga over him, Malaika, who reportedly had been avoiding the Gunday actor, surprisingly liked the picture which left fans wondering about their possible reconciliation.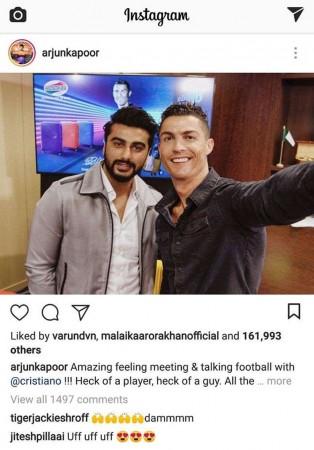 Earlier, it was reported that Malaika and Arjun, who have always maintained the 'good friends' status, were ensuring that nothing should be written about them in the media.
"Malaika avoids parties if Arjun is attending one, or sometimes they make sure that they come in and go out at separate times if it is imperative that Malaika has to attend. When there is nothing going on between them now, why should they be written about together? And this is one such way of ensuring this," a source was quoted as saying by Deccan Chronicle.
Reports suggested that amid break-up rumours, Arjun flew off to Dubai to ring in Malaika's 44th birthday (October 23) and even bought her favourite cake. The next day he was back in Mumbai.
"There has been speculation of Arjun and Malaika calling it quits, but the two have always maintained a discreet silence on their friendship – they have chosen not to discuss a breakup too if any. This Diwali they made sure that they were not spotted at any party together to avoid unnecessary gossip but that was it. As they say, actions prove louder than words and Arjun was spotted in Dubai on Monday," a source told Pinkvilla.
Now, whether Malaika and Arjun are still dating, only time will tell.