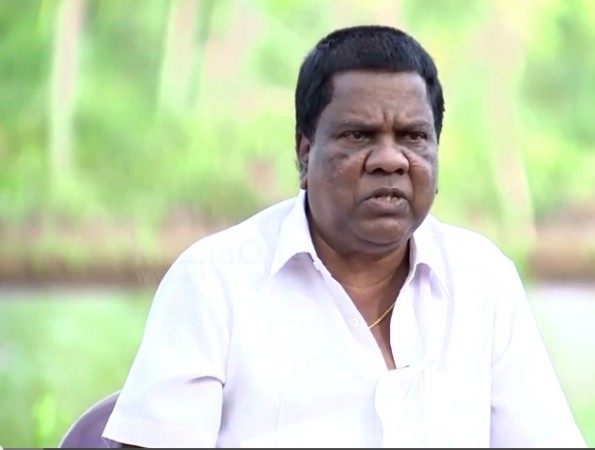 Veteran actor Mala Aravindan who passed away on Wednesday was cremated with full State honours at his house premises in Mala, Thrissur on Thursday morning. Mala's eldest son Kishore lit the pyre and the cremation that took place around 8.30am.
The cremation was attended by many prominent personalities from various aspects of life. Close friends and colleagues of the actor including Mammootty, Jayaram, Innocent, Captain Raju, Edavela Babu and director Siddique joined thousands of people to pay respect to the deceased actor.
Minister Anil Kumar, MP P Rajeev, MLA TN Prathapan were also present to bid adieu to the actor. Earlier, Mala's body was kept at the Sangeetha Nataka Akademi Hall in Thrissur and St Antony's School, Mala for the public to pay their tributes.
"I have always felt that our industry couldn't explore much of Mala as an actor. He is no more with us now and there is no point talking about it. As a person, he had made some good friends both in and outside industry. His style of acting and voice modulation belongs only to him and this can never be replaced," remembered Mammootty who was close friend of Mala.
The actor was hospitalised on 19 January after he suffered a cardiac arrest and was later shifted to intensive care unit after a second attack on 22 January. The 76-year-old actor passed away at 6:20am on Wednesday, 28 January at Kovai Medical Centre in Coimbatore.
Mala Aravindan, who began his career as a Tabla artist went on to do more than 500 movies and became one of the most prominent faces in Malayalam cinema for comic roles. The actor's last release was "Lal Bahadur Shasthri" in 2014.
Some of his popular films are "Ente Gramam", "Tharavadu", "Adhikaram", "Alorongi Arangorungi", "Thadavara", "Bhoodhakannnadi", "Ooma Penninu Uriyada Payyan", "Koyyayam Kunjachan", "Joker" and "Meesamadhavan".