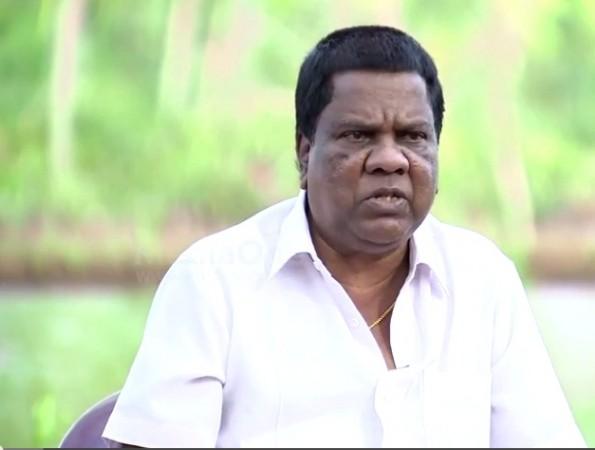 Veteran Malayalam actor Mala Aravindan passed away at 6.20 am on Wednesday, 28 January 2015 at Kovai Medical Centre, Coimbatore. The actor was undergoing treatment at the hospital after he suffered a massive heart attack a week ago. He was 76.
The ace actor suffered a minor heart attack on 19 January, Monday, and was taken to the hospital. He was later shifted to the intensive care unit after another massive attack on Thursday.
Mala Aravindan, who has acted in over 500 movies, is one of the most prominent faces in Malayalam cinema and is known for his comic roles. The actor's last release was "Lal Bahadur Shasthri" in 2014.
The actor's body will brought to his hometown Mala in Thrissur district in Kerala by evening for cremation.
Mala is a proven talent when it comes to music, theatre and cinema. He began his career as a Tabla artist for an amateur play. It was destiny that led him to the world of theatre when he bagged a substitute's role by chance
His performance garnered massive appreciation and led him into the world of acting as a permanent theatre artist. He went on to do many professional plays with reputed theatre companies and later won the Kerala State Nadaka Academy's Best Actor award for his role in Sooryasoma's play "Nidhi".
He made his debut in Malayalam movies with Balakrishnan's "Sindhooram" in 1969 in a small role. After the initial stint, Mala cemented his position in the industry with his own style of dialogue-delivery and comic timing. He will be rememebred as a man who could evoke laughter in silence.
Soon, he became an inevitable part of Malayalam cinema along with stalwarts like Pappu and Jagathy and the deadly comic combination of the trio assured success to the producers. The trio went on to become the face of Malayalam comedy.
Some of his popular films are "Ente Gramam", "Tharavadu", "Adhikaram", "Alorongi Arangorungi", "Thadavara", "Bhoodhakannnadi", "Ooma Penninu Uriyada Payyan", "Koyyayam Kunjachan", "Joker" and "Meesamadhavan".