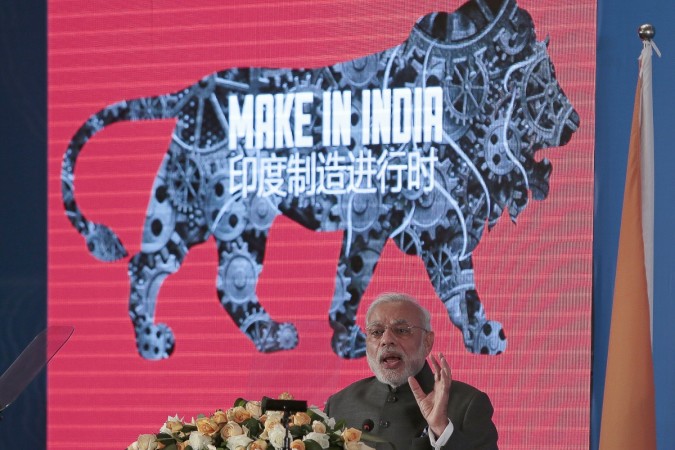 Prime Minister Narendra Modi's ambitious 'Make in India' initiative has improved foreign direct investment (FDI) inflows significantly between September 2014 and November 2015, according to a data from the Reserve Bank of India (RBI).
The country had witnessed gross FDI inflows of $62.6 billion, up 31% from $47.6 billion recorded in the previous 15 months, according to The Economic.
"FDI will grow by 40-45% in 2016 despite the global slowdown. The government has taken vast number of policy measures this year," Amitabh Kant, Secretary in the Department of Industrial Policy and Promotion (DIPP), had said in December last year.
Economists attribute the spike in FDI inflows to several initiatives, including the 'Make in India' campaign taken by the Modi government to boost investment in the manufacturing sector.
"FDI and portfolio flows over the past year-and-a-half suggest that conscious efforts of the government to encourage more stable direct investments are yielding results," The Economic Times quoted Saugata Bhattacharya, chief economist at Axis Bank, as saying.
"At a time when global capital markets have become volatile, FDI flows reduce uncertainty about foreign capital outflows and, consequently, currency volatility," Bhattacharya said.
After coming to power in May 2014, the National Democratic Alliance (NDA) government has taken various measures to bring in more foreign investment and boost its manufacturing activity through its 'Make in India' initiative. The government has also eased e-commerce norms for overseas companies with manufacturing operations in India.
While the manufacturing sector is estimated to have attracted a major chunk of FDI in India, some sections of the market feel that a part of the amount could have come "through the private equity route".
In October last year, a report by a domestic brokerage firm Emkay Global had contradicted a claim that PM Modi's 'Make in India' initiative was the main driver behind India's emergence as the world's top destination for foreign direct investment (FDI) in the first half of the 2015, surpassing China and the US.
The brokerage had said that it would be "premature" to co-relate the increase in FDI to the 'Make in India' initiative.