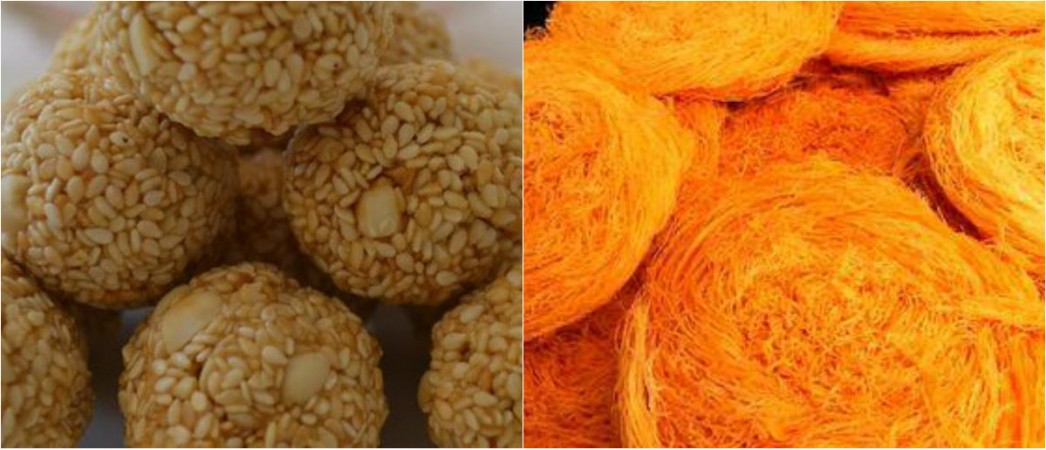 Makar Sankranti, which will be celebrated on January 14, is a harvest festival celebrated across India. The kite-flying festival is also quite popular in Nepal and Sri Lanka.
Also read: Mouth-watering dishes made on Lohri festival
It is celebrated differently in different states -- as Pongal in Tamil Nadu, Maghi (Lohri is celebrated a day before) in Punjab, Bihu in Assam, and Uttarayana in Gujarat and Rajasthan. It also marks the start of grand melas (fairs) in the country, especially Uttar Pradesh, of which the most popular is Kumbha Mela.
Interestingly, Makar Sankranti is one of the few Indian festivals that falls on the same day every year, according to the Gregorian calendar. It is the festival of til-gul, where sesame and jaggery ladoos or chikkis are distributed. They are generally accompanied by saying, "Til-gul ghya ani gud gud bola," which means "eat sesame seeds and jaggery and speak sweet words."
Though sweet dishes are available in markets, it is fun to make at home and enjoy the festival. Check out the top five sweet dishes to make at home on this kite-flying festival here:
Til Gud Ladoo
Til gud ladoo is the popular sweet dish made during Makar Sankranti. It is made of sesame seeds mixed with jaggery, which is then made into small balls. It is a ritual for local people to have this laddoo during the festive season. Take a look at how to make it at home here:
Murmura Laddoo
Round shaped sweet dish made of puffed rice and jaggery is popular in Uttar Pradesh and Bihar during Sankranti. The mix of the ingredients looks quite appealing. Watch how to make it at home:
Paatishaapta
Paatishaapta is mostly made in Bengali homes during Makar Sankranti festival. It is a cylindrical shaped dessert, made of glutinous rice and stuffed with coconut. One can have it with rabri or kheer.
Pheni
It is a popular sweet dish during Sankranti in Rajasthan. The silky vermicelli can easily be made at home.
Gulachi Poli
Gulachi Poli is the traditional dish made in Maharashtra during the kite-flying festival. It is made of jaggery and sesame seeds and will be prepared in shape of rotis.