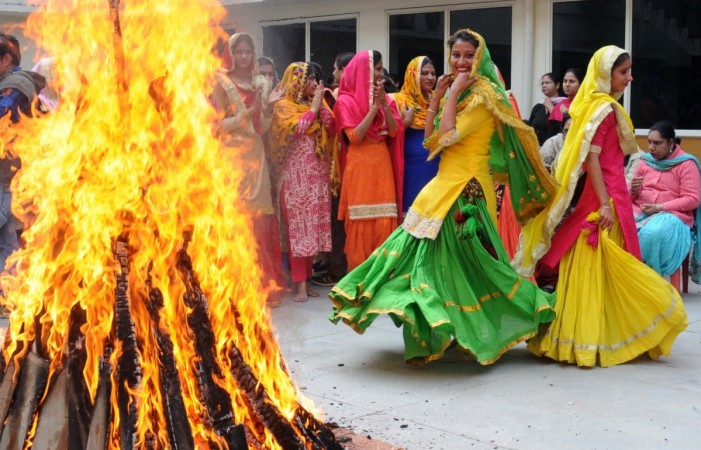 The festival of Lohri is all about coming together to celebrate the end of winter and welcoming the season of spring. The auspicious day is celebrated with family gatherings and special prayer offerings. The Lohri bonfire is lit in the evening and people offer winter harvests to the holy fire.
Also Read: Lohri 2017: From Veer Zaara's Lodi song to Diljit Dosanjh's Patiala Peg, here are top Punjabi songs to celebrate the festival [VIDEOS]
Ingredients like jaggery, gajak, corn, puffed rice and sesame seeds are offered to the warm flame in a bid to thank the nature for the yield. While prayers are performed in the evening, the house bustles of the festive spirit from the morning.
Kitchens are filled with cooks and chefs of the house preparing authentic Lohri dishes. One can see dishes like Sarson ka Saag aur Makki ki Roti to til ki barfee being made and the neighbourhood smelling of the festivity. However, if you are far from home and don't really know how to cook a great Lohri meal, do not worry. Here are five authentic Lohri dishes recipes that will help you cook a perfect meal for the occasion.
- Sarson ka Saag aur Makki ki Roti:
This dish is synonym to Lohri. Every family attempts to make the freshly harvested mustard leaves with corn chapattis, served with a huge dollop of ghee.
- Gajak:
Sesame seeds or Til are an important part of Lohri. The seeds are mixed with jaggery to form a flat barfi called gajak. One can also make them using groundnuts, instead of sesame seeds.
- Murmura Ladoo:
A two-ingredient recipe, Murmura Ladoo (puffed rice ladoo) is made using just puffed rice and jaggery.
- Pinni:
An authentic Punjabi dish, Pinni requires basic kitchen ingredients like wheat flower, ghee and dry fruits.
- Roasted Makhane:
Apart from spinach and sesame seeds, lotus seeds (makhane) are also an important element of Lohri. While there are numerous dishes made of the seeds, you can try a simple roasted makhane dish.