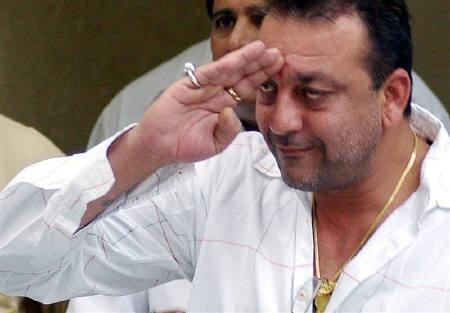 The Supreme Court on Thursday sentenced actor Sanjay Dutt to five years in jail for illegal possession of arms in the 1993 Mumbai bomb blasts case.
The 53-year-old actor, who has already served 18 months behind bars for his connection to the blasts, which ripped through India's financial capital and killed 257 people, will now have to serve another three and a half years in prison.
Sanjay fondly, known as 'Sanju Baba' in Bollywood circles, has been plagued with shocking scandals over the years.
Here's a look at some of the significant events which has marked Dutt's life over the years:
Substance Abuse: A young rebel that Sanjay was, drugs were his solace after his mother Nargis' death from cancer. The combination of alchol and drugs proved lethal for the upcoming actor and he spent five months behind bars in 1982 for possession of drugs.
Like any responsible father, Sunil Dutt put his son in a rehabilitation centre in Texas, US.
It was reported that filmmaker Shubhash Ghai had originally considered Sanjay for the blockbuster "Hero' which ultimately went to Jackie Shroff, owing to Sanjay's drug addiction.
1993 Mumbai Blasts: The 1993 blasts proved 'Khalnayak' in Sanjay's life. He was booked for possessing a pistol and rife and was convicted for participating in terrorism activities.
From 1993 to 2006, Sanjay's life was overshadowed by visits to jail and courts.
As the case progressed, his alleged link with gangster Dawood Ibrahim was highlighted.
Marriage Gone Wrong: Sanjay had his share of bad luck when it comes to his personal life. After Tina Munim left him for his addiction, Sanjay got married thrice.
He fell for budding actress Richa Sharma and married her in 1997. Daughter Trishala was born from the union. But the couple's happiness was short-lived as Richa succumbed to brain tumour in 1996.
Sanjay tried his luck again with love; he married socialite Rhea Pillai but they soon separated and filed for divorce in 2005.
The actor married small-time actress Manyatta Dutt in 2008 for the third time. The couple is still going strong and had twins - Shahraan and Iqra.
Sibling Conflict: Sanjay has shared a rocky relationship with sister and Congress MP Priya Dutt.
Sanjay's decision of venturing into politics as Samajwadi Party (SP) candidate in 2009 irked Priya so much that she went on to say, "For the first time since he (Sunil Dutt) died I am thankful he is no longer alive to see this ignominy."
But as sources are to believed, all is well in the Dutt household evelopments in Sanjay Dutt's life.
Failed tryst with Politics: Sanjay was to contest as the SP candidate in 2009 Lok Sabha elections, but the Supreme Court refused his candidacy owing to his involvement in the 1993 blasts case.
The actor gave up for good his politician dream only to concentrate in films.
Munnabhai's 'Gandhigiri': Vidhu Vinod Chopra's "Munna Bhai MBBS" (2007) proved lucky for the actor as the film earned commercial success and earned him critical appreciation.
With the movie and saint-like qualities of the protagonist, Sanjay was viewed with high regard despite his ugly tryst with the law.
The sequel to the film also turned out to be a success at the box office.
Agneepath: The villainous role of 'Kaanch Cheena' in the remake of the original film proved a milestone in Sanjay's filmy career. His bald, eerie looking delusional character earned him accolades and achieved a cult status now.