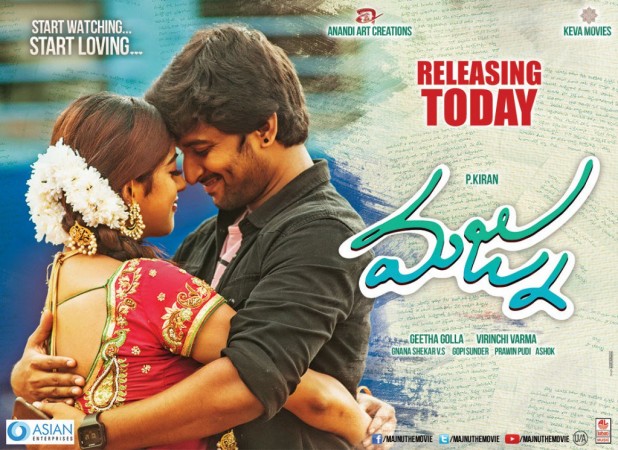 Director Virinchi Varma's Telugu movie Majnu featuring Nani, Anu Emmanuel and Priya Shri in the lead roles, has received positive reviews from the audience.
Movie Stills | Audio launch Pictures | Audio Success Meet
Majnu is a romantic comedy-drama film and Virinchi Varma of Uyyala Jampala fame has written the story and screenplay and directed the movie. Geetha Golla and P Kiran have produced the film under their banners Anandi Art Creations and Keva Movies, respectively.
The story of Majnu is about the romantic life of assistant director Aditya (Nani) and his relationship with two women (Anu Emmanuel and Priya Shri) while he attempts to write a romantic comedy story. The two women fall in love with Aditya and how he deals with this situation forms the crux of the story.
The audience say Majnu has a cute love story and Virinchi Varma has created an interesting screenplay, which is a nice blend of romance, music, comedy, twists and turns. The first half of the movie is entertaining with some romantic and fun scenes. The second half is also engaging and the climax is fun filled.
Nani has delivered very good performance, which is the highlight of the movie. Anu Emmanuel, who is making her debut in Telugu, has also done justice to her role. Her glamour and chemistry with Nani are among the attractions of the movie. Vennela Kishore, Priya Shri and Posani Krishna Murali are also good assets to the film, say the audience.
Majnu has rich production values and music, picturisation, exotic locales, comedy scenes and punch lines are attractions on the technical front, add the viewers. We bring to you some film goers' verdict on the film shared on Twitter. Here is the live update of Majnu movie review by audience:
AVAD ‏@avadsays
#majnu is @NameisNani show al the way. He is the sole factor 4 u to watch the film.That's star power which makes simple stuff luk lot better. Liked the way #virinchivrma etched out the love story in the first half. @ItsAnuEmmanuel looks innocent and makes a good debut #Majnu
Jalapathy Gudelli ‏@JalapathyG
#Majnu Despite weak and dragging second half, the film is watchable. Nani & Gnanashekar command appreciation.
Moviebuff ‏@RVaitla
Very routine yet entertaining and romantic firsthalf....#Majnu Enteraining first half and emotional second half....Minus is movie goes on too routine stuff....but nani's one man show made it a worth watch..!!
Varun Kilaru ‏@varunkilaru
#Majnu @NameisNani s success streak will continue! Cute movie! Anu Emanuel is a good find and virinchi shows his mettle with d pool scene
Nikhil Kumar ‏@nikvenk
@vennelakishore is hilarious in his role and lightens up the proceedings during the initial part of the second half. #Majnu @ItsAnuEmmanuel makes a decent debut and is very good in the first half. She not only looks good but Acted Wonderfully as Kiran. Congrats
Keerthi.B ✨ ‏@Keerthi_kittu11 38m38 minutes ago
@NameisNani complete entertainer With cute love story,superb comedy & emotions.congrats to whole team #Majnu Thank you RestartLoving
Soumya kondla ‏@kondla_soumya
@NameisNani FDFS @ItsAnuEmmanuel performance #Adithya's love.Situational songs Hilarious comedy overall #Majnu movie..loved it. ❤️
Phani kandukuri ‏@buduggadu
Done with #Majnu .. once again @NameisNani steals the show.. enjoyed the film ..
Venkat ‏@PrAbHaS_FaNaTiC 33m33 minutes ago
#Majnu Refreshing Entertainer - A movie which makes you smile & touches your heart Nd makes it emotional
ranadeepbasani ‏@BASANI94 1h1 hour ago
@NameisNani #Majnu The first half is good... Second half is an average fare... Totally enjoyed.....@NameisNani #Majnu Second half screenplay could have been good. Slightly overdose of the love triangle...
G Sriniwasa Kumar ‏@SKNonline 2h2 hours ago
We hv few actors who enhance output of the film @NameisNani is one of them. Lyked Rom Com #Majnu & @ItsAnuEmmanuel screen presence is nyc
вєιиg ιи∂ιαи ♡ ‏@Tag4Bld_amrita 2h2 hours ago
Done with #Majnu It's Freaking awesome and something different feel.. @NameisNani congrats and Music director take a bow you are amazing
Siddhu Manchikanti ‏@SidManchikanti
Virinchi varma handled Majnu in utmost lighter version without any heavy extravanga . Movie goes on simple note , natural scenes and decent comedy at perfect timings Light dull moments here and there but covered on greater grounds. Now we have got Back to back 5 hits (Yevade subramanyam,Bhale bhale.., KVPG , Gentleman , Majnu) We are soon going to break break Pawan kalyan's back to back 6 hits unbreakable record which was laid 2 decades ago *Thigh slapppp* .. Go with your family Hittu cinema !!
Suresh Kondi ‏@V6_Suresh
#Majnu is Watchable Love Entertainer.@NameisNani's Natural Performance is watch out for..!! Gnana Shekar Photography is Beautiful. #TimePass
Krishna ‏@resonative5
#Majnu a breezy romedy entertainer. One more hit in Nani's kitty. Gopi Sunder's bgm was refreshing. Worth watching. Coincidentally watched a Dookudu reference which got cheers from the audience in #Majnu on the day of Five Years For Dookudu.Cinematography in #Majnu definitely needs a mention. Lush green fields were captured aesthetically. Top notch stuff.
Mahesh-Prabhas ‏@niranjan_i_am
#Majnu:One more hit for Nani. Gud movie with nice humour,love,Dialogues&sentiment.1st half super.2nd half abv avg.3.5/5 Watch it for sure :)
aHf ‏@adhyayam
Good 1st half. Comedy, Music, visuals are major plus. Nani, Virinchi Varma #Majnu #Majnu is rich in fun filled moments though it falters in 2nd half where it needs to deliver emotions effectively. Enjoyable on a whole
Goka Nageswara Rao ‏@rao_goka
@NameisNani Full paisa vasul movie. Nani's one man show. #Majnu My rating 3/5.
Siva Satish kumar ‏@sivasatishkumar
@IAnuEmmanuel Just now finished watching #Majnu . Super acting with expressions Anu . Long way 2 go. All the best for ur future projects
Harish ‏@harishvarma996
#Majnu 1st half is a entertaining love story. Good comedy timing n diction of @NameisNani. Love story, songs and #sathya acting. #majnu paisa vasool in 1st half it self waiting for second half bonus Go n watch #majnu movie for unique entertainment done by our @NameisNani but not for the story becoz it is an avg movie considering it.
Varun Kilaru ‏@varunkilaru
#Majnu @NameisNani s success streak will continue! Cute movie! Anu Emanuel is a good find and virinchi shows his mettle with d pool scene #majnu Negatives Heroines Little bit slow in screenplay Completed #majnu mve Avg 2nd half totally gud mve Climax is big let down one more #kvpg range mve for @NameisNani not as bbm Climax train journey is awesome #majnu But preclimaxwas not gud
Vicky ‏@Jst_Vickyy
@iPriyashri Done with #Majnu You nailedd it. Loved ur character n the way you handled it. Didn't expected that Interval twist. Way to go!!!
DileepKumar ‏@dileep_dharwad
#Majnu is a decent watch with lovely fun moments, twists & lovely songs. Another super hit for @NameisNani
vinay pemmasani ‏@vinaypemmasani
#Majnu Decent 1 time watch! Actors & Music excelled!
SUNNY REDDY ‏@SUNNYNANNURI
#majnu done with first half its good Watched #majnu not bad one time watch !!
vj1909 ‏@vj1909
#Majnu Class Movie with rich photography and nice screenplay.Nani . Direction with Bhimavaram backdrop..