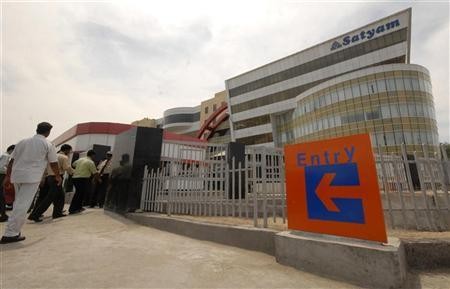 Mahindra Satyam shares soared nearly 10 percent on Friday's opening trade, after the company reported a 56.4 per cent rise in quarterly profits that were strongly driven by new contracts and rupee depreciation.
The IT company touched a 52-week high, its highest since July 21, at ₹91.85 on the BSE, which trailed down 0.6 per cent. At 11:15 am, the stock declined to ₹89.15, which is 6.58 percent higher compared to Thursday's closing trade.
The sharp gains come amid strong profits for the June quarter, beating Street estimates after winning orders including a key contract from a metals and finance company. On Thursday, Satyam registered ₹3.52 billion against analyst estimates of ₹2.7 billion. In the earlier year, the company reported 2.25 billion in profits.
Vineet Nayyar, Chairman, Mahindra Satyam, said, "With this quarter, we have successfully ended our 3-year transformational journey, recording progress on the back of strong fundamentals, focus and investments. Global business realities continue to be unpredictable. However we are confident of taking forward our momentum.
Satyam shares, which are valued at ₹1.8 billion jumped nearly almost 30 percent in 2012. Operating profit margins surged to 21.7 percent as against 14.8 percent in the same quarter last year.
"The company's operational performance was ahead of our expectations, with operating profit margin increasing by whopping 480 bps qoq to 21.7%. This was due to reduction in SG&A expenses, which as percentage to revenue stood at 19.4% during June quarter as against 21.2% in the March quarter," Ankita Somani, research analyst at Angel Broking, said according to DNA.
Attrition rates slid down to 13.5 per cent over 17.3 per cent last year, after the company employed 2643 more people, bringing its total work force to 35,996.
"Profit was buoyed by multi-million dollar order wins and gains of about Rs 58.5 crore on exchange rate fluctuations. Satyam said it had won at least three big orders this year including two in the June quarter, without naming the clients," Reuters reported.
The company is currently planning a merger shareholder Tech Mahindra, which provide software services to clients mostly in the United States, Europe and Australia. Tech Mahindra owns almost 43 percent of Satyam and is offering one share in itself for every 8.5 shares of Satyam to absorb the company.
(With inputs from Reuters)