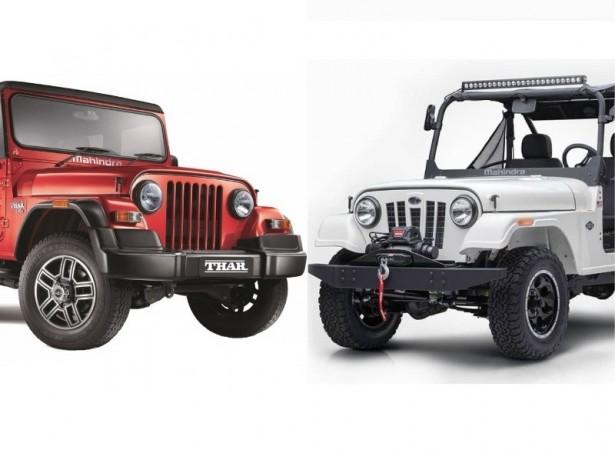 Indian utility vehicle specialist Mahindra & Mahindra is all set to conquer the UV space of the United States of America with its latest model, the Roxor. Exclusive to the US market, the Roxor will be manufactured at Mahindra Automotive North America's (MANA) plant in Auburn Hills.
Roxor was conceived, designed, engineered and produced in Metro Detroit by MANA, which is part of the $19-billion Mahindra Group. One can easily find the similarities between the Roxor and the Thar SUV sold in India.
Mahindra & Mahindra confirms that the Roxor is based on the Thar. However, they are not just badge engineering. If you are curious and want to know the differences between the Roxor and Thar, we have compiled all the information.
1. Mahindra Roxor is not road legal vehicle. It doesn't need registration and the SUV can be used for recreational purposes on farmlands and on selected trails assigned for off-road vehicles. The Thar, on the hand, is a fully road-legal vehicle.
2. Mahindra Roxor's body is made of polyurethane as compared to the steel body on the Thar. This makes the Roxor light and more durable which is spot on for the rugged terrains.
3. One can easily spot the different grille in the Roxor and the Thar. The latter gets seven-slat vertical grille while the former gets a five-slat version. The change has been incorporated to avoid a conflict of a trademark with the Jeep brand in the USA.
4. The Roxor, being a recreational vehicle, comes with a door-less design with a roll cage. It also gets off-road spec 16-inch steel rims or optional aluminum alloy wheels and off-road tires. The Thar has been designed to ply on roads as well as off-road terrains. Hence it comes with proper doors, fixed roof, and windscreen.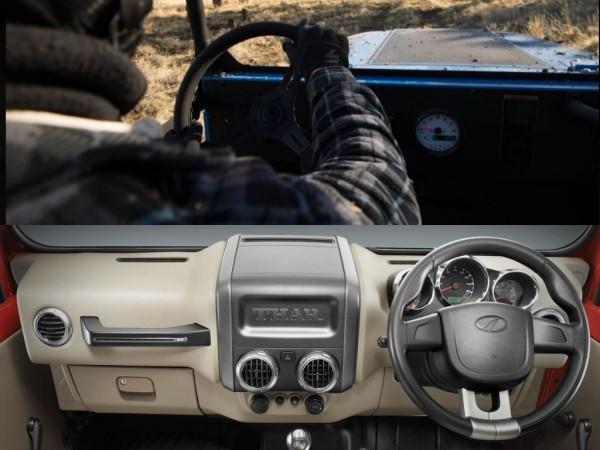 5. The Roxor gets a basic dashboard with no frills. The metal dashboard houses a large dial in the center and nothing else. The Thar gets a more user-friendly and contemporary dashboard. It has a dual-tone color theme with instrument clusters, air-con vents, glove box and others.
6. Mahindra claims the Roxor will be offered in 900 paint and wrap options (not a typo). The list of options includes gloss or matte paints, camouflage wraps, and even sand color. The Thar is offered only in five color options and Mahindra offers a limited range of customization options.
7. The Roxor is powered by a 2.5-litre four-cylinder diesel engine with 64bhp of power and it comes mated to a five-speed manual gearbox. The Mahindra Thar is offered in two engine options. The base variant gets a 2.6-litre that churns out 63bhp while the bigger variants get a 2.5-litre CRDe engine. This motor develops 105bhp.