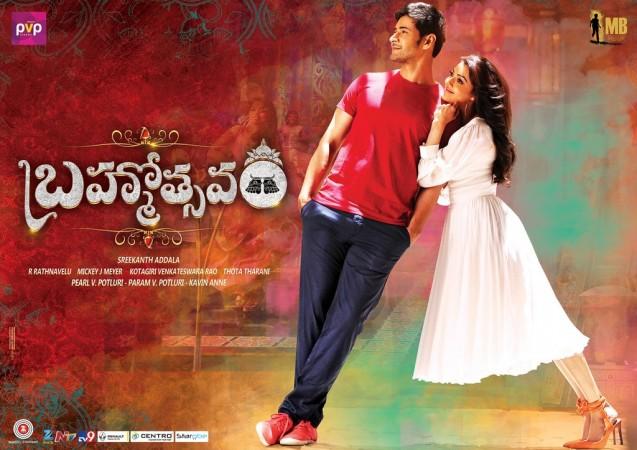 The theatrical trailer of Superstar Mahesh Babu's "Brahmotsavam" has received superb response with its views count crossing the 2 million mark on YouTube in four days.
The producers of "Brahmotsavam" launched its theatrical trailer at its grand audio launch function held at Shilpakala Vedhika in Hyderabad on May 7. Later, the video was released on the official YouTube channels of Mahesh Babu, PVP Cinema and Zee Music South and it has got decent number of views on all these platforms.
The trailer of "Brahmotsavam" has been viewed 2,024,162 times (total) on the three YouTube channels (Mahesh Babu - 1,374,759, PVP Cinema - 470,594 and Zee Music South - 178,809). The video has received a total of 23,927 thumbs up (likes), 3,559 thumbs down (dislikes) and 1,321 comments together on these channels in four days.
"Brahmotsavam" is a family drama film, written and directed by Srikanth Addala. As per its trailer, the movie revolves around the story of a family from Vijayawada. the family comprised a brother (Satyaraj) and his six sisters, who are separated due to some reasons. How the hero (Mahesh Babu) reunites them with the help of his maradalu (sister-in-law) played by Samantha, Kajal Aggarwal and Pranitha forms the crux of the story.
"Brahmotsavam" has a routine story that is mostly about family values and celebrating traditions. The trailer shows that Srikanth Addala's script, which focuses on the greatness of joint families, will be the main highlight of the movie, which will be another good family entertainer in Mahesh Babu's career after "Seethamma Vakitlo Sirimalle Chettu" and "Srimanthudu."
The trailer shows "Brahmotsavam" is high on emotional quotient, but it does not give a glimpse of the mass elements like action and comedy. It hints at its characterisation and the wonderful performances by all the roles will be the big assets of the movie. Mahesh Babu's sparkling chemistry with Samantha and Kajal will be among the highlights of the movie.
"Brahmotsavam" has been made with a whopping budget of Rs. 75 crore and Prasad V Potluri has bankrolled it under the banner of PVP Cinema. Its trailer shows that the movie is loaded with rich and colourful production values. Mickey J Meyar's songs, Mani Sharma's background score and Ratnavelu's picturisation will be big attractions on the technical front.
The trailer of "Brahmotsavam" has created a lot of curiosity among the film goers. Many viewers, who commented on the video, say that it will be the best family entertainer of the 2016. Here are some unique comments taken from YouTube.
Saran Sai: Watching continously. Really superb. Excellent hard work by the director, fantestic acting by mahesh babu and entire cast&crew of the film... rich production elements ....eargly waiting for the movie
Krishnatej Sreeramula: Mahesh rocked. One of the best family entertainer in recent times. Kajal is gorgeous. Randy DOP is superb. Mickey done a fantastic job. #BrahmostavamBegins
Smitha: Gonna be Another Perfect Family Entertainer from Srikanth Addala!!! Sure BB for Superstar Mahesh Babu Wishes & Support from Ilaya Thalapathy Fans ✌
Ravvili Krishna: Get ready for blockbuster from super star mahesh an complete family entertainer mahesh rocks as usual
Ravi Patel: Super very nice I'm waiting for the movie, all the best to the superstar #MaheshBabu, #KajalAggarwal, #SamanthaRuthPrabhu, #Pranitha and the entire team of #Brahmotsavam. This movie is gonna be a great family entertainer
Mahesh Devan: I dnt understand telugu but this is fantastic....mahesh babu always chooses script very different....nice to c a feel good movie from a superstar thank god it doesnt have any mass scenes...and slow motion fights like other telugu movies.