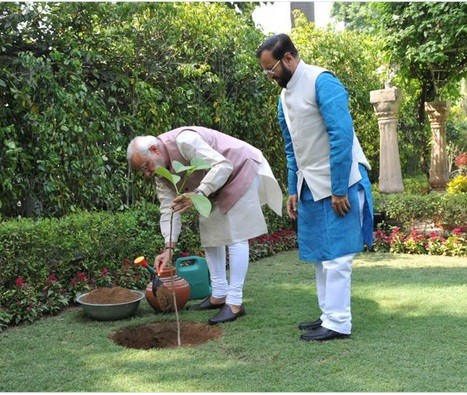 Nagpur bore witness to the inauguration of the Maharashtra-wide tree plantation drive on Friday, with Rashtriya Swayamsevak Sangh (RSS) chief Mohan Bhagwat leading the initiative from the front. He was accompanied by state Energy Minister Chandrashekhar Bawankule, a member of the ruling BJP, of which the RSS is the parent organisation.
The drive is aimed at ensuring that the state gets more green cover. Maharashtra currently has green cover across only 20 percent of the state, as compared to the 33.5 percent required.
"The depleting green cover is one of the major causes of climate change and it is affecting the monsoon. We will plant 2 crore saplings within a day. While 1.50 crore saplings will be planted by the forest department, various government institutions will plant the rest," the Daily News and Analysis (DNA) quoted a senior official of the state government as saying.
Friday's event launch saw Bhagwat planting a sapling near the headquarters of the RSS in eastern Nagpur, while Bawankule and 10,000 children planted saplings in the catchment area of the Ambajhari lake, according to a Press Trust of India report.
Nagpur Metro Railway Corporation (NMRC) Managing Director Brajesh Dixit led other NMRC officials in planting trees on Amravati road, which falls along the route of the Metro rail that is set to come up in the city.
The NMRC is expected to plant at least 5,000 trees in the city this monsoon.
The state-wide programme is expected to be conducted at a massive scale and in a comprehensive manner. "In every office premises, 20 saplings need to planted, 10 in each cooperative organisation office premises, 100 in each cooperative sugar mill campuses, 20 in each cotton mill premises and five in each cooperative housing society premises. Besides these locations, plantations can be done at various private firm premises under the corporate social responsibility (CSR) fund," the DNA report quoted a government circular as saying.
Meanwhile, Prime Minister Narendra Modi on Friday lauded the state's move to plant 2 crore sapliogs. "Excellent initiative by the Maharashtra Government, of planting 2 crore trees in one day. Urge everyone in Maharashtra to support & join [sic]," he said.