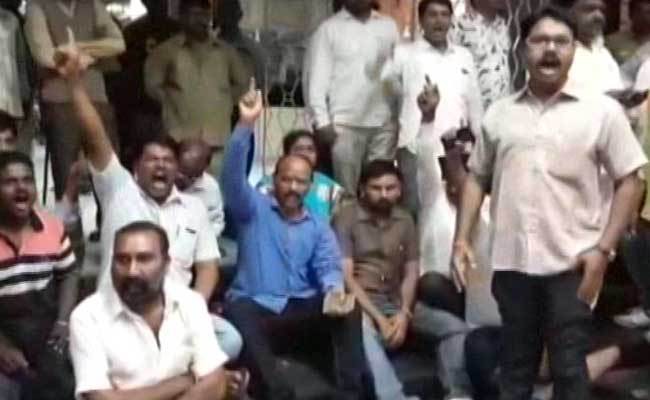 Protests broke out in Nashik on Sunday following the rape of a five-year-old girl by a teenage boy. Villagers, who were angry with the incident which occured in the temple taluka of Trimbakeshwar, agitated in several places and demanding that the teenager be immediately arrested.
After the protesters reportedly blocked traffic on the Agra-Mumbai Highway around midday on Sunday, Maharashtra Chief Minister Devendra Fadnavis took cognisance of the situation and issued a statement saying that the 16-year-old accused had been arrested, the police also confirmed the arrest.
Local police station in-charge Mukund Deshmukh said that the teenager raped the girl at an isolated place in the Talegaon village under Trimbakeshwar in the district. The teen has reportedly been booked under IPC Section 376 (rape) and some sections of the Protection of Children from Sexual Offences (POCSO) Act.
As news of the minor's rape spread, local residents gathered at the regional police station demanding that the boy be booked and arrested immediately. Some people also took to agitating outside the Nashik Civil Hospital on Saturday night, demanding that a woman doctor must examine the victim, according to Deshmukh.
The protesters also stopped traffic in the Wadovhare, Ghoti and Anjaneri-phata areas. Some people reportedly burnt tyres and damaged a tractor in Talegaon as part of the agitation.
Sources in the rural police control room said that some people stopped the traffic at the Talwade village on the Nashik-Trimbakeshwar Road, at the Girnare village and near Mohadi on the Mumbai-Agra National Highway on Sunday morning, while protesting against the incident.
The protests saw people not only vandalising a police van but also torching another vehicle. The police soon rushed to the spot and cleared away the protesters from the roads. After the situation was brought under control, Nashik Police Commissioner Ravindra Singhal appealed to the residents to maintain peace.