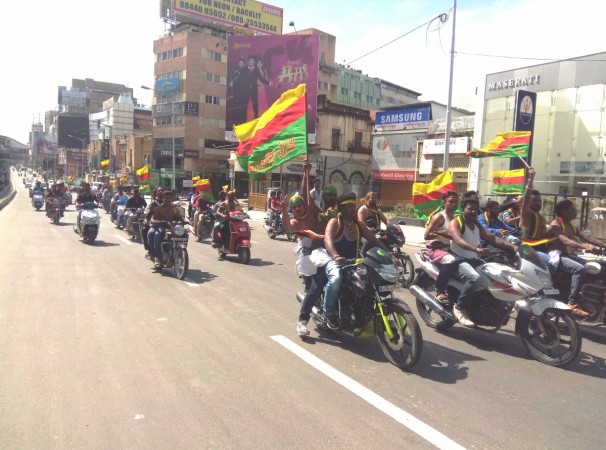 The Karnataka bandh called on Saturday, July 30, by the Karnataka Rakshana Vedike in protest of the verdict of the Mahadayi Water Disputes Tribunal turned out to be near-successful, with roads wearing a deserted look as shops did not open and public transport kept off the roads or did not ply, despite statements to the contrary a day earlier.
As a result, residents of the city suffered for the fifth day in a row, the first three of which were due to a transport strike in which all Bangalore Metropolitan Transport Corporation (BMTC) and other buses remained off the roads and the next one due to incessant rains causing so much flooding that many houses were inundated, and people caught fish on the roads as lakes and reservoirs overflowed.
Meanwhile, torrential downpours made a comeback in the city, a day after water-logging was so bad that it made global news. Saturday's rain worsened the situation in many places, like the Bellandur lake, where pollution-caused foam was already overflowing on Friday. Watch the video here:
The bandh had been called by Vatal Nagaraj, leader of the Kannada Chaluvali Vatal Paksha, after the Mahadayi Water Disputes Tribunal rejected Karnataka's plea over sharing water of the Mahadayi river, which is also known as Mandovi, with Goa. Other outfits, like the Karnataka Rakshana Vedike, had supported the bandh call across the state.
Read: Everything you need to know about the Mahadayi water verdict row.
Saturday, being the beginning of the weekend, started on a sleepy note for Bangalore, now known as Bengaluru. However, those who needed to work or venture out on the day were in for a shock. Namma Metro, despite promises on Friday that it would function, was not running.
There was further shock in store, as buses were also not plying, with otherwise busy bus stations wearing a deserted look. The local police told International Business Times India, that buses would ply only after 6 p.m. The BMTC had earlier said they would let buses run depending on the situation. And auto-rickshaws made the most of the situation, quoting prices that dwarfed even the word "exorbitant!"
While most shops and offices remained closed, some government offices worked, albeit behind closed doors. One examples were banks, where employees arrived only in small numbers, but it was business as usual.
The bandh was characterised by protests all across the city. In some places the protesters even forced shops to shut, sources told IBTimes India. However, when contacted, the police in Bangalore said the morning had been peaceful with no untoward incidents.
The state police also said the situation was peaceful, adding that Karnataka State Road Transport Corporation buses were not plying. They said that shops had started to open shutters by late afternoon.